Bennett College meets fundraising goal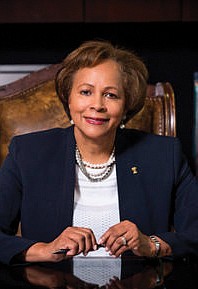 GREENSBORO, N.C.
Bennett College, a historically black all-women's college in North Carolina that was facing loss of accreditation and possible closure because of financial problems, has exceeded its $5 million fundraising goal.
Bennett President Phyllis Worthy Dawkins announced Monday that the college raised $8.2 million thanks to the help of 11,000 donors, including alumnae, faith-based and community organizations, corporate donors and supporters from across the country.
Officials have been working since early December to raise by a Feb. 1 deadline $5 million, the minimum needed to maintain the college's accreditation by the Southern Association of Colleges and Schools' Commission on Colleges. Bennett's only sanction by the accrediting body was because of finances. It had to show that it could reach sound financial footing.
Calls to aid the college founded in 1873 went out from Bennett officials, its network of alumnae and others, including graduates of Spelman College in Atlanta, the only other black all-women's college in the nation, and Dr. Johnnetta B. Cole, who formerly served as president of both Bennett and Spelman. Dr. Cole met last week in Richmond with alumnae of both colleges and produced a video seeking donations that was circulated on social media.
Donors responded.
At Monday's news conference, High Point University President Nido Qubein handed over a slew of high-bill donations adding up to hundreds of thousands of dollars, from various bodies he and the university are associated with before finally presenting a $1 million check from the university.
Papa John's, the pizza chain, donated $500,000, along with the Z. Smith Reynolds Foundation.
Bennett officials also credited many African-American organizations and churches for stepping up with gifts. Among the top donations from Greek-letter organizations and faith-based groups were $100,000 from Alpha Kappa Alpha Sorority; $50,000 from Delta Sigma Theta Sorority; $31,000 from Alpha Phi Alpha Fraternity; $50,000 from Alfred Street Baptist Church in Northern Virginia; and $40,000 from Mt. Zion Baptist Church in Greensboro, N.C.
Bennett College also received one its largest single gifts in the institution's history as a result of the quick campaign — $1 million from businesswoman Kwanza Jones and her husband, José E. Feliciano of California.
Ms. Jones is founder and chief executive officer of SUPERCHARGED by Kwanza Jones, a global lifestyle and personal development company, while Mr. Feliciano is co-founder and managing partner of Clearlake Capital Group, a private investment firm.
Ms. Jones' mother, Dorothy Wilkerson Jones, graduated from Bennett in 1965, while her aunt, Brenda Wilkerson Hoover, graduated in 1963.
Patricia Woodard, executive assistant to Dr. Dawkins, said Bennett's next step is appearing before the accrediting agency's appeals committee on Feb. 18. She said an accreditation ruling is expected by Feb. 25.