Kamras delivers first State of the Schools address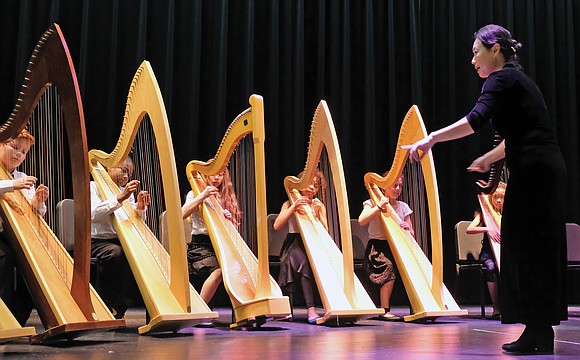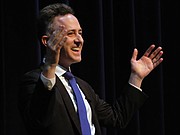 Richmond Schools Superintendent Jason Kamras delivered his first State of the Schools address Tuesday night to a packed house of more than 300 people at Martin Luther King Jr. Middle School.
Parents, teachers, administrators, local officials, RPS community advisory boards and support staff applauded performances and heartfelt stories by RPS students before Mr. Kamras took the stage.
The superintendent's message, supported by photos displayed on huge video screens, centered on the district's strategic plan, "Dreams4RPS," developed with input from 170 community meetings with more than 3,000 people before being approved in December by the Richmond School Board.

"Dreams4RPS" includes five priorities with 40 specific action items that the Kamras administration will use to steer decision-making. The plan's goals are to change school curricula to ensure that all 44 Richmond schools are accredited by 2023, as well as increasing the graduation rate.
The five-year plan, costing $150 million, also focuses on modernizing technology, having teachers visit every student at their home at least once a year and partnering with colleges and universities to give eligible RPS students full scholarships to attend college.
Mr. Kamras talked about the major issues facing RPS.
"Less than half of our schools are accredited, and we have the lowest graduation rate in Virginia," he said, at 75 percent.
Adding to that are the deplorable conditions of many of the school buildings — poor heating systems, smelly bathrooms, mold, broken tiles and classrooms that are cold in the winter and hot in the summer. All, he said, are a clear signal of disrespect.
"It's criminal," Mr. Kamras said. "We simply have to do better."
Seven of the School Board members attended, along with Mayor Levar M. Stoney, City Council President Cynthia I. Newbille and Councilwoman Reva M. Trammell.
Mayor Stoney said following the event that he is impressed with the work the RPS administration and School Board have put in thus far.
"It is easy to put information on paper," Mayor Stoney said. "But they have had the type of community feedback and engagement needed to build true success."
Mayor Stoney said the city administration must "fund the plan and work with the philanthropic community, nonprofit world and RPS to make the resources happen to get the dollars to make all of these opportunities happen."
Mr. Kamras noted that renaming J.E.B. Stuart Elementary School in North Side to Barack Obama Elementary was a highlight of the last year, along with increasing teacher pay by 2 percent and bus drivers' pay by 10 percent.
"School names are just symbols, but symbols matter, especially when it comes to Richmond's history and present on race," Mr. Kamras said.
He said despite the pay raise, Richmond ranks 30th in the nation when it comes to how well it pays teachers. "We are thousands of dollars below the national average, and I hope state lawmakers will see this as a problem and change it."
Additionally, Mr. Kamras pointed to the district's commitment to diversity in the classroom and the focus on hiring more African-American male teachers and others of color.
"It is critical that our teaching force reflects the full diversity of our community and student populations," he said.
Tiawana Giles, who took over as Carver Elementary School's principal following a cheating scandal uncovered last May, thought the event was positive. "I think we are doing great things at RPS. With this strong vision and great leader in the superintendent, we are going to make things happen and continue to rise."
The event featured stories of academic achievement and resilience, as well as performances by the Franklin Military Academy choir, the RPS Harp Ensemble and a George Wythe High School senior, Tanasha Dodson, who sang the national anthem.
"We have nowhere to go but up," said School Board Chairwoman Dawn Page. "And I look forward to putting in the work to ensure that happens."