Richmond Free Press wins NNPA award
7/12/2019, 6 a.m. | Updated on 7/12/2019, 7:40 p.m.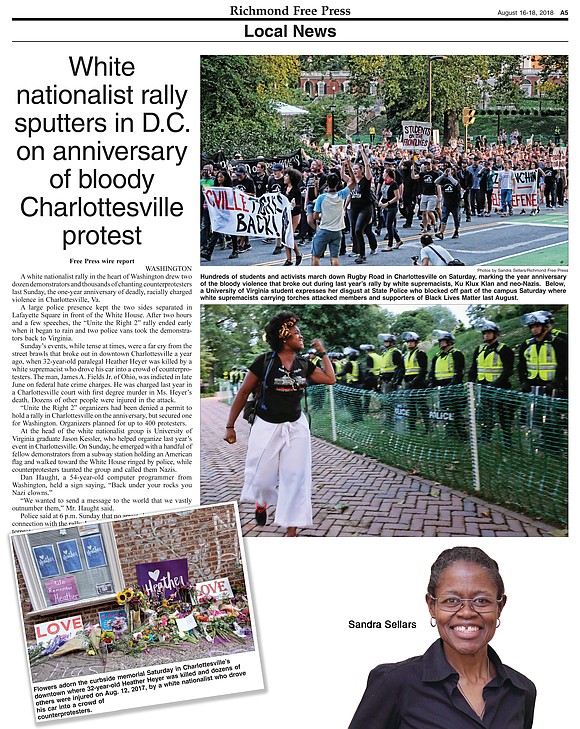 The Richmond Free Press continues to win awards.
The latest: An award from the National Newspaper Publishers Association for Best News Pictures.
The award was announced June 27 at the organization's annual convention in Cincinnati.
Richmond Free Press photographer Sandra Sellars took the three prize-winning photographs during an Aug. 11, 2018, rally in Charlottesville marking the first anniversary of the violent neo-Nazi rally there in which 32-year-old paralegal Heather Heyer was killed and dozens of others were injured when a self-professed white supremacist drove his car into a crowd of counterprotesters. In 2018, hundreds of students and activists marched through Charlottesville streets in a show of unity and solidarity against hate and to criticize a heavy police presence.
The NNPA represents more than 200 newspapers owned by African-Americans across the United States.
The theme for this year's convention: "Celebrating 192 Years of the Black Press in America: Innovation, Transformation and Empowerment."
Two Democratic presidential candidates addressed the publishers during the five-day event. U.S. Sen. Bernie Sanders of Vermont delivered a keynote address on June 28, while U.S. Sen. Kamala Harris of California opened the June 27 awards dinner via a video message of support and encouragement for the black press.
Publisher Brenda Andrews of the New Journal and Guide newspaper in Norfolk won the coveted Publisher of the Year Award.
Top honors at this year's awards ceremony went to The Miami Times, which received the John B. Russwurm Trophy for the highest score in the awards categories.
In 1827, Mr. Russwurm co-founded with Samuel E. Cornish Freedom's Journal, the country's first African American-owned and operated newspaper, with the credo: "We wish to plead our own cause. Too long have others spoken for us."