Markers to honor late city native Dorothy I. Height on March 24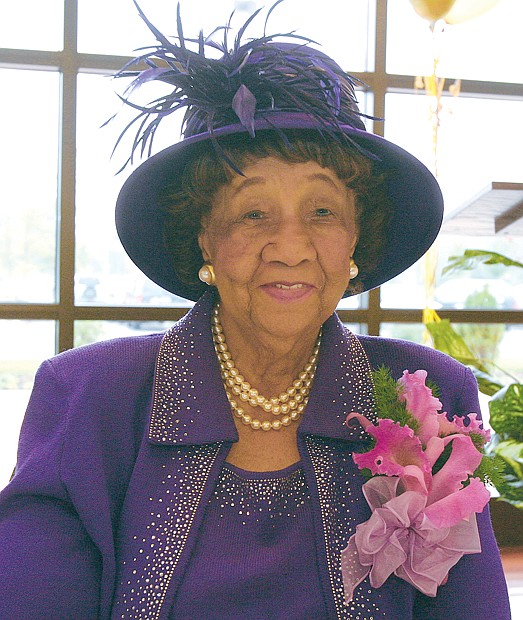 Dorothy Irene Height left segregated Richmond at age 5 and went on to earn national recognition as a civil rights and women's rights activist who devoted her life to uplifting people.
On Sunday, March 24, which would have been her 107th birthday, Ms. Height's hometown will recognize the "godmother of the Civil Rights Movement," with the unveiling of historical markers by the state and the sorority that Ms. Height once led.
The markers will stand together in front of the Richmond Public Library's Hull Street Branch, 1400 Hull St., it has been announced.
The unveiling will follow a dedication ceremony at 3 p.m. that will be held at nearby First Baptist Church of South Richmond, 1501 Decatur St., around the corner and a block away from the library.
The state marker will recall Ms. Height's work for racial and gender equality, while a Delta Sigma Theta Sorority marker will remember her leadership as the sorority's 10th national president from 1947 to 1956, a news release states.
The sorority got involved after the state marker failed to mention her important role in the organization.
Often called Dr. Height because of her multiple honorary doctorates, Ms. Height, who died in 2010 at age 98, is best remembered for her 40 years as the leader of the National Council of Negro Women where she influenced presidents.
Ms. Height was a friend of the NCNW's founder, educator Mary McLeod Bethune, who also launched Bethune-Cookman University in Florida. After volunteering with the organization, Ms. Height was named president and chief executive officer of the NCNW in 1957 and served until 1997.
Known for her hats, white gloves and meticulous dress, she was a confidante of First Lady Eleanor Roosevelt. Ms. Height also lobbied President Dwight C. Eisenhower to uphold school desegregation in 1957 when Little Rock, Ark., sought to block nine African-American students from enrolling in a white high school.
She also pushed President Lyndon B. Johnson in the mid-1960s to appoint more African-American women to federal positions.
Ms. Height worked closely with Dr. Martin Luther King Jr. and other civil rights leaders to end segregation and was involved in organizing the massive 1963 March on Washington at which Dr. King delivered his famed "I Have A Dream" speech.
Dr. King and others considered her one of the "Big Six" civil rights leaders, though she got far less attention than her male counterparts such as James Farmer, John Lewis, Roy Wilkins and Whitney Young.
President Bill Clinton awarded Ms. Height the Presidential Medal of Freedom in 1994, and President George W. Bush presented her with the Congressional Gold Medal in 2004.
Before leading the NCNW, she served as a social worker for 20 years, first for New York City's Welfare Department and then for 13 years in the YWCA's national office, which ended segregation of its facilities in 1946, two years after she began working for the organization.
Among her early fights were efforts to end the exploitation of domestic workers, who gathered on street corners to get picked for temporary work at homes of wealthy white people.
She described what she called a "slave market" in her memoir, "Open Wide the Freedom" and the battle she waged in the 1930s to try improve the working conditions and pay for such workers.
Delta Sigma Theta Sorority cites Ms. Height with increasing the group's social activism and linking the sorority with a wide range of people-helping groups, from the YMCA and the Red Cross to the Girl Scouts of America and the United Nation's Educational, Scientific and Cultural Organization.
Born in 1912 in Richmond's Blackwell community, Ms. Height left in 1917 when her parents moved to Rankin, Pa., to provide better opportunities for the family.
Ms. Height won a national Elks oratory competition and used the $1,000 prize to go to college. Turned away from Barnard College because of her race, she ended up enrolling and graduating from New York University, where she also earned two master's degrees.
The state Department of Historic Resources produced the state marker as part of an ongoing project to highlight African-American history through its marker program.
Speakers at the Sunday ceremony are to include 6th District City Councilwoman Ellen F. Robertson, and Dr. Colita N. Fairfax, a professor of social work at Norfolk State University and vice chair of the Virginia Board of Historic Resources, according to a news release.
Other speakers are to include Connie L. Cuffee, president of the Richmond Alumnae Chapter of Delta Sigma Theta Sorority, Dr. Dwight C. Jones, a former Richmond mayor and senior pastor of First Baptist Church, and Preston A. Page, a member of the Dorothy Height Event Committee.
Dr. Michelle K. McQueen-Williams, an associate minister at First Baptist Church and instructional director for Henrico County Public Schools, is to serve as mistress of ceremonies.