Church grapples with aftermath of latest school shooting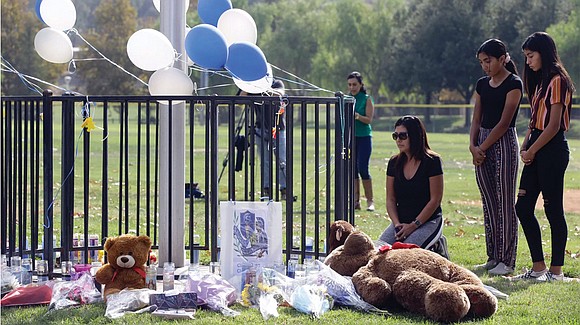 LOS ANGELES - Soon after a 16-year-old shot and killed two of his classmates and wounded three others at Saugus High School in Santa Clarita, Calif., on Nov. 14, Grace Baptist Church Senior Pastor David W. Hegg and members of his church opened their doors to the community.
Faculty and students came to the church — just a few miles from the school — where grief counselors were on hand. Police officers questioned witnesses at the church about what they saw during the shooting.
Mourners also gathered at Grace Baptist for a night of prayer just hours after the shooting struck the Santa Clarita community. "Everything happened really fast. We wanted to do something," Rev. Hegg told Religion News Service.
The shooting left 15-year-old Gracie Anne Muehlberger and 14-year-old Dominic Blackwell dead, as well as 16-year-old Nathaniel Ten- nosuke Berhow, the shooter, who died from a self-inflicted gunshot.
All were students at Saugus High School in Santa Clarita, a suburb about 30 miles north of Los Angeles. The school is about 3 miles from Grace Baptist. Classes at Saugus High will resume after Thanksgiving.
Authorities don't know what led to the deadly shooting. They said Nathaniel Berhow had not displayed signs of violence. He didn't appear to be linked to any ideology or terrorist group.
Rev. Hegg said he feels for all the victims, including the shooter's mother. The teen's father died in 2017 of a heart attack.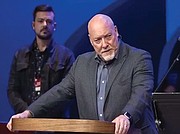 Grace Baptist members collected money for the victims during services during the weekend. The money will be distributed to the families of those victims, including the shooter's mother. Thousands of dollars already have been raised for the Blackwell and Muehlberger families through GoFundMe.
A GoFundMe page also has been set up for Nathaniel Berhow's mother. To Rev. Hegg, she also needs help as some in the community may not rally around her in the same way. It's the job of the church to be there for her, he said.
Additionally, Nathaniel Berhow participated in a summer Bible school program at Grace Baptist when he was an elementary school student, the pastor said.
"That's why we exist as a church — to bring the love of Christ to people who are hurting and we don't want to leave the mom out," Rev. Hegg added.
After the shooting, clergy across the region also responded with public statements and acts of kindness.
Los Angeles Archbishop José H. Gomez called on local Catholics to pray for the victims, families and first responders. Real Life Church in Valencia invited students for pizza last Saturday and offered their open space to play or pray. The Episcopal Diocese of Los Angeles directed the faithful to liturgical resources urging cities and states to pass legislation that could reduce the number of people killed and wounded by gunfire.
To Rev. Hegg, advocating for gun control soon after a deadly shooting is "too simplistic." He said he's not a gun advocate but feels it politicizes the tragedy.
And yet, he has had to respond to a mass shooting in the region more than once as a pas- tor. Before the most recent attack, there was the November 2018 shooting at Borderline Bar and Grill in Thousand Oaks, Calif., that left 12 people dead and the San Bernardino, Calif., shooting in December 2015 that killed 14 people.
Rev. Hegg fears people no longer value the notion of "love your neighbor" because they may be too immersed with their own selves. He wondered if Nathaniel Berhow thought of how his actions would affect his mother, his classmates and the rest of the community.
Grace Baptist was expecting a large turnout for its youth ministry this week after crowds of students attended the night of prayer after the shooting.
"Some of those students we think will come back," Rev. Hegg said.
The Associated Press contributed to this report.