Shockoe Bottom's slave history to be subject of symposium Dec. 7
11/27/2019, 6 p.m.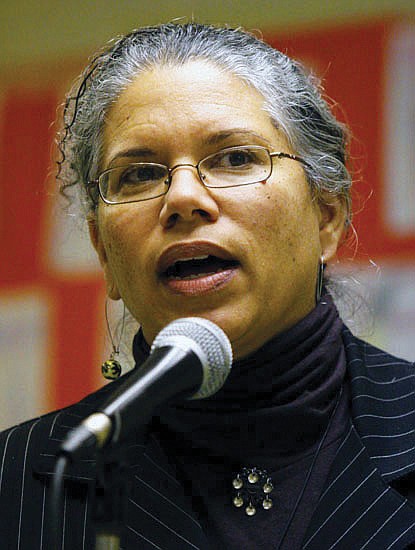 Fans of African-American history will be offered an all-day feast of information about Shockoe Bottom on Saturday, Dec. 7, at the Library of Virginia, 800 E. Broad St.
From 9 a.m. to 4:30 p.m., 22 historians, researchers, authors, museum officials and other experts will be offering their views at "Truth and Conciliation in the 400th Year: A Shockoe Bottom Public History Symposium," it has been announced.
Billed as the largest gathering of scholars on Shockoe Bottom, the free event will feature discussions, cultural performances and plans for a park in seeking to spotlight the role Shockoe
Bottom has played in the history of Africans and people of African descent in Virginia, organizers said.
"Our goal is to make crystal-clear the historic importance of Shockoe Bottom, its tremendous potential for education, reparations and conciliation and the great crime that would be committed if its physical presence were lost to inappropriate development," according to Ana Edwards, chair of the Sacred Ground Historical Reclamation Project.
A part of the Virginia Defenders for Freedom, Justice & Equality, the project and Ms. Edwards have pushed for more than 15 years to focus public attention on Shockoe Bottom as central to the history of slavery and slave rebellion in Richmond.
The program also is aimed at helping to unblock a long-stalled, taxpayer-funded effort to create a visitor attraction focused on Lumpkin's Jail, a notorious site for holding enslaved men, women and children awaiting sale before the Civil War and a founding site of the Virginia Union University after the war.
A centerpiece of the event will include the presentation of a community-generated proposal for a 9-acre Shockoe Bottom Memorial Park that the Virginia Defenders has spearheaded to go beyond the jail site, Ms. Edwards noted.
The list of speakers at the symposium include Dr. Ram Bhagat of Richmond Public Schools; Elvatrice P. Belsches, historian; Pamela Bingham, descendent of slave rebellion organizer Gabriel; Dr. Michael Blakey, National Endowment for the Humanities Professor at the College of William & Mary; and Christy Coleman, historian and chief executive officer of the American Civil War Museum.
Also, Ms. Edwards; Dr. Douglas Egerton, author of "Gabriel's Rebellion;" Dr. Carmen Foster, historian; Dr. Gregg Kimball of the Library of Virginia; Elizabeth Kostelny, chief executive officer of Preservation Virginia; and Dr. Lauranett Lee, historian and adjunct professor at the University of Richmond.
Also, Nicky McMullen, singer and founder of Soul for Souls; Lenora McQueen, family historian; Dr. John V. Moeser, professor emeritus of urban studies and planning at the University of Richmond; Brian Palmer, photojournalist and historian; Rhonda Pleasants, co-chair of Virginia Commonwealth University's East Marshall Street Well Project; and Dr. Autumn Rain of the Institute for Historical Biology at the College of William & Mary.
Also, Joseph S. H. Rogers, history re-enactor; Dr. Ryan Smith, VCU history professor; Dr. Midori Takagi, cultural studies expert and historian on slavery in Richmond; Dr. Shawn Utsey, historian and chair of VCU's African-American Studies Department; and Phil Wilayto, founding editor of The Virginia Defender.
Details and registration: www.dec7symposium.org or (804) 644-5834.