VSU to meet CIAA champ Bowie State in Saturday's homecoming
Fred Jeter | 10/18/2019, 6 a.m.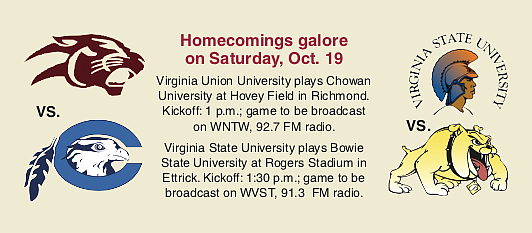 Virginia State University has won five straight games with a relatively soft schedule.
On Saturday, Oct. 19, easy street ends.
The path to victory will become more difficult with the arrival of Bowie State University as VSU's homecoming opponent.
The Trojans' five-game winning streak was forged against opponents with a combined 9-21
record.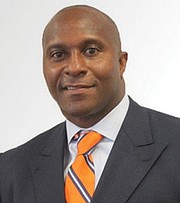 The most recent triumph for Coach Reggie Barlow's squad was a 54-21 rout of host Elizabeth City State University last Saturday.
In order, VSU has manhandled the University of North Carolina-Pembroke 35-16; St. Augustine's University 34-7; Johnson C. Smith University 31-15; Shaw University 35-0; and now ECSU 54-21.
Bowie State won't be so easily kicked to the curb.
The Bulldogs come to Ettrick with a 6-0 record and the title of defending CIAA champion. The Bulldogs warmed up for VSU with a 64-17 win last Saturday over Chowan University.
To send its alumni and supporters off to the parties smiling, VSU will need to play its best football this season. That means plenty of production from dual-threat quarterback Cordelral Cook and his flock of receivers, plus continued success from a strong supply of running backs.
VSU has been the CIAA's most dominant running team thus far with 1,695 yards overall and a 5.7 per carry rushing. Opening eyes of late has been 175-pound freshman speedster Donavan Goode. The fleet newcomer ran for 96 yards against Elizabeth City with touchdown blasts of 75 yards and 5 yards. Goode set the state private schools record for the 55-meter dash at Trinity Episcopal School in Richmond and originally enrolled at Coastal Carolina University to run track.
He transferred to VSU for the opportunity to resume football. He is the son of former VSU All-CIAA defensive back Ed Goode Jr.
Bowie State has been the CIAA's most consistent team in recent years, thanks largely to the heroics of record-setting passer Amir Hall.
With Hall graduating, the Bulldogs haven't lost their rhythm with quarterback Ja'rome Johnson. The junior from Washington transferred to Bowie State from the University of Virginia at Wise. Thus far, he has passed for 617 yards and nine touchdowns and run for 569 yards and another eight touchdowns.
Bowie State, which is showing no post-Hill hangover, has outscored its six opponents by a combined 243-91.
VSU hopes to return to the CIAA championship game on Saturday, Nov. 16, in Salem. Beating Bowie State would provide an ample nudge in that direction.