VUU heads into homecoming with 62-0 win over Lincoln
Fred Jeter | 10/18/2019, 6 a.m.
Virginia Union University has the potential to turn this weekend's homecoming into showtime.
Coach Alvin Parker's Panthers are revved up and rocking while visiting Chowan University, the opponent for the homecoming game Saturday, Oct. 19, is limping to Richmond with a leaky defense.
VUU is primed for the game with a 62-0 rout last Saturday of Lincoln University in Pennsylvania.
The Panthers are 5-1, with four straight victories, and very much in contention for All CIAA and NCAA Division II honors.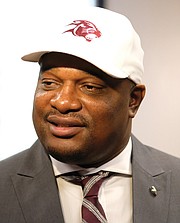 In the last two weeks, the Panthers have devoured Livingstone College and Lincoln University by a combined 106-0.
Meanwhile, Chowan University is 1-5 and coming off a 64-17 loss last Saturday at Bowie State University in Maryland.
VUU has talent aplenty to display for its alumni and homecoming crowd at Hovey Field.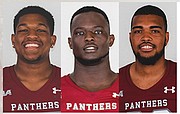 Panthers quarterback Khalid Morris passed for 257 yards at Lincoln, with four touchdowns, all to dynamic receiver Charles Hall.
Hall, a sophomore from Trenton, N.J., leads the CIAA with 25 catches for nine touchdowns and an impressive 26.2 yards per grab.
VUU travels best by land with bullish Tabyus Taylor. The junior from Hopewell had 92 yards rushing and two touchdowns against Lincoln.
The Panthers also feature place kicker Jefferson Souza, who leads the CIAA in scoring with 13 field goals and 21 extra points.
This has been a dominant season at VUU under Coach Parker, now in his second year.
The Panthers opened with a take-notice victory at Hampton University of the FCS. The team's lone loss came in week two to undefeated NCAA Division II juggernaut Lenoir-Rhyne University.
Overall this season, VUU has out-scored the opposition 202 points to 79.
In terms of total offense, the Panthers have led their opponents 2,170 yards to 1,593.
Those numbers are likely to bulge even more following the matinee date with Chowan University on Saturday.
The visitors from Murfreesboro, N.C., have allowed 130 points the past two weeks in losses to Fayetteville State and Bowie State universities.
Chowan's senior quarterback, Bryce Witt from Dinwiddie, has thrown for 14 touchdowns but he has been intercepted 11 times. Witt will face a relentless VUU pass rush.
One negative note for VUU: Standout safety Sterling Hammond did not play at Lincoln because of unspecified reasons.
It would be a monumental upset if VUU doesn't easily handle Chowan at homecoming.
Then on Saturday, Oct. 26, the CIAA Northern Division title could be decided when the Panthers travel to Maryland to face defending champion Bowie State University.
The Panthers will close their regular season Saturday, Nov. 2, at Hovey Field against Elizabeth City State University and then finish on Saturday, Nov. 9, at Virginia State University.
The CIAA championship game is set for Saturday, Nov. 16, in Salem, a destination for which the Panthers have never qualified previously.