City shelter didn't open in last week's cold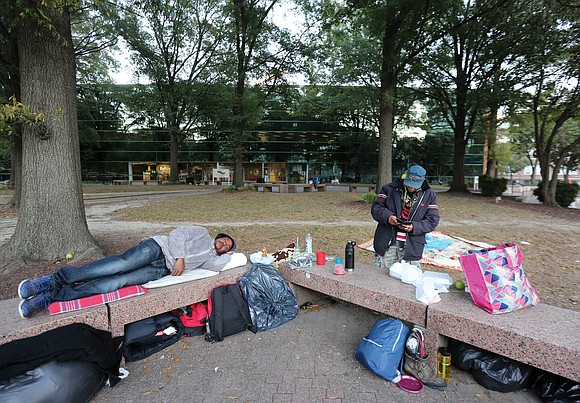 City Hall never opened its homeless shelter last week even as temperatures plunged below 40 degrees for the first time this fall.
A city ordinance requires the shelter at the Annie Giles Community Resources Center in Shockoe Valley to open each day when the outdoor temperature or chill factor is forecast to be 40 degrees or colder.
The temperature dropped to 37 degrees in Richmond in the early morning of Friday, Oct. 18, and to 38 degrees in the early morning of Saturday, Oct. 19, according to the National Weather Service.
The decision not to open the shelter comes as the administration struggles to complete a strategic plan on homelessness that Richmond City Council has requested while turning a blind eye to a small homeless camp that has sprung up on the grounds of the city Department of Social Services building at 9th and Marshall streets. Four to 10 people a night sleep on the building's grounds, mostly stretched out on concrete benches.
In response to a Free Press query, Jim Nolan, press secretary for Mayor Levar M. Stoney, stated that the city relied on the hour-by-hour forecast at weather.com, which he said did not forecast temperatures "to drop below 40."
When open, the shelter operates from 7 p.m. to 6 a.m., Mr. Nolan noted.
"The only time temperatures were recorded as actually be- ing below 40 during shelter operation hours on Oct. 18 was at 5:54 a.m. — six minutes before the shelter was set to close," he stated.
"On Oct. 19," he continued, "the temperature dropped to 40 degrees at 4:54 a.m.," three hours earlier than weather.com had forecast.
"The city and Commonwealth Catholic Charities strive every day to meet the needs of the most vulnerable members of our community and will continue to do so," Mr. Nolan stated. "Any suggestion or insinuation that we are not fully committed to their welfare is misguided, misinformed and frankly, offensive."
However, other sources did forecast low temperatures falling to 40 degrees on both nights. WRIC-TV forecast on Oct. 17 that the low for Richmond would be 40 degrees on Oct. 18, and forecaster Wayne Albright of the National Weather Service stated that forecast for Richmond predicted a low temperature of 40 degrees for Oct. 19.
Meanwhile, City Council continues to wait for the strategic plan.
"The plan was supposed to be ready by Oct. 1," said 6th District Councilwoman Ellen F. Robertson, chair of the council's Land Use, Housing and Transportation Committee. "The administration has requested an extension."
City Council on Oct. 14 cleared the way for the administration to use the Giles Center at 1400 Oliver Hill Way for a cold weather shelter, just days before the arrival of near freezing temperatures. Commonwealth Catholic Charities, which operates the shelter under a contract with the city, stated, "We have to wait for instructions from the city before we can open. We did not receive any such instructions last week, and we have not received any such instructions since."