Justice Center brings technology to inmates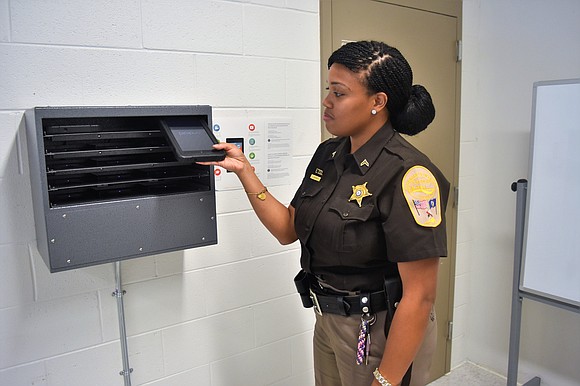 Computer tablets are making it easier for families and inmates at the Richmond Justice Center to stay connected.
Inmates now can have video calls with spouses, children and others on their visitation list.
They also can take educational courses online, arrange medical appointments, file grievances and handle other internal communication with jail staff using a tablet available in their cellblock or pod — eliminating paper messages that could get lost.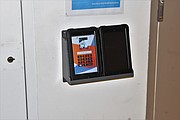 "This has been great," said inmate Oro D. Louis, 40, who has two years to serve at the jail.
Currently, he is taking a course in micro-economics and looks forward to studying other online courses offered through the nonprofit Khan Academy, whose mission is to provide "a free education for anyone, anywhere."
Sheriff Antionette V. Irving, who previously added an online inmate search function for the public to use, introduced the tablets in July as the latest technology innovation at the jail.
Since then, every inmate processed at the jail has been provided a unique use name and a PIN that allows him or her to sign in to use the tablet.
"This is something I wanted to do even before I was elected," Sheriff Irving said during an interview last week with the Free Press.
During her time as a major with the Henrico County Sheriff's Office, she said she became aware of other jails across the country installing tablets to improve communications inside the jail as well as enabling inmates to have more connec- tions outside.
After winning election to the office in 2017, she put that on her "to-do" list and made it a priority this year. Richmond now joins the Chesterfield County Jail in installing tablets; Henrico's jail has not.
Maj. S.M. Bagby, who manages administration and information technology in the Richmond Sheriff's Office, led the effort to make it happen with GTL, the company that operates the inmate phone service.
Maj. Bagby said GTL installed 72 tablets and charging stations, known as "pizza ovens," in the jail's 29 pods.
She and Sheriff Irving believe the tables have reduced some of the potential for conflict among the 840 inmates that, on average, are housed at the city Justice Center.
Each pod has up to four telephones, and before the tablets arrived, inmates faced rationing and time limits on their use. With the tablets, there are more outlets for phone calls.
Because there are often fewer tablets than the number of inmates in a pod, the inmates "have had to learn to share," Maj. Bagby said.
"That seems to be going well," Sheriff Irving said, noting that inmates look for the recipient of a call after a message for the recipient appears on the screen.
The tablets have not stopped personal visits. Each day, hundreds of people come to the jail to visit with inmates. They are separated during the visit by a clear divider.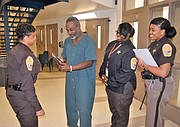 The video call is pricey at 25 cents a minute, which is at least double the cost of a standard phone call.
Still, when the weather is bad, "families do not have to come down to the jail. They can still visit with a video call," Sheriff Irving said. And during holidays, families can still visit via video and carry on with other plans, she added.
The new service has worked well for attorneys, who can talk with clients without having to travel to the jail, the sheriff said. While other calls are monitored, these are not, said Cpl. J. Barnes, who has the monitoring assignment. The jail also does not charge for legal business calls, she said.
Cpl. Barnes noted that, initially, some people took advantage of the video to do stripteases or provide racy pictures.
She and Maj. Bagby noted that such actions have dramatically diminished since the tablets were introduced and inmates were warned that transmission of such photos could cost them use of the tablets.
Sheriff Irving said the tablets are still in a test mode.
"We're going slowly," she said, to ensure a smooth operation with all the potential glitches identified and removed.
However, down the road, she said she hopes to add inmate access to movies and TV shows, which can easily be added. She also is considering allowing inmates to rent a tablet so they would not have to share one of the jail's tablets.
She also said she and her staff are looking for ways to expand uses for tablets, possibly including linking with GED programs, the community college system or other schools to provide credit courses.
Sheriff Irving said the jail also plans to beef up its career readiness and preparation programs and is looking to use the tablets so that inmates can take the necessary classroom courses online and be ready to seek jobs after their release.
"We're just at the beginning of figuring out ways to use this technology," she said.