Pharmacist produces hand sanitizer to help people stay healthy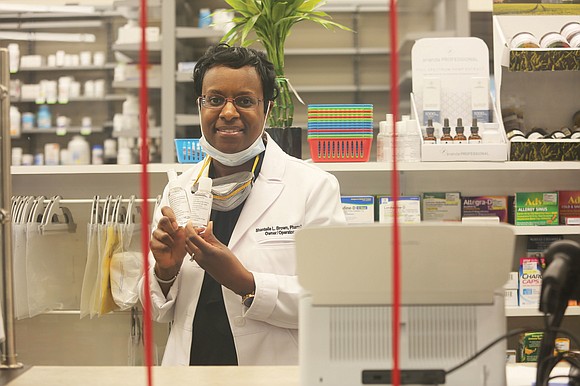 Dr. Shantelle L. Brown, the pharmacist, owner and operator of HOPE Pharmacy inside The Market@25th, is making hand sanitizer to combat coronavirus.
The pharmacy began producing its own liquid hand sanitizer after Gov. Ralph S. Northam's declaration of a state of emergency in Virginia and his updates about the need for personal protection products.
The Virginia Board of Pharmacy has given pharmacists permission to compound hand sanitizer. HOPE Pharmacy's formula follows World Health Organization guidelines and ingre- dients to produce a topical solution with a final concentration of at least 60 percent alcohol. It contains isopropyl alcohol, hydrogen peroxide, glycerin and purified water.
"It doesn't have a gel consistency," Dr. Brown said.
She said it comes in a 2.7-ounce spray bottle or a container "where you can pour it out." It is to be used on body surfaces.
It is sold in HOPE Pharmacy for $2 for pharmacy patrons and $2.50 for other shoppers. The pharmacy provides it free to first responders, including police and firefighters, as well as to employees of the grocery store at 25th Street and Fairmount Avenue in Church Hill.
Dr. Brown said while using soap and water is the best way to clean your hands, especially during the coronavirus pandemic, people should use hand sanitizer if soap and water aren't available.
Producing the hand sanitizer, she said, is part of the essence of the pharmacy — "helping others physically prosper every day."