COVID-related furloughs push unemployment claims to new highs
Jeremy M. Lazarus and Ronald E. Carrington | 4/9/2020, 6 p.m.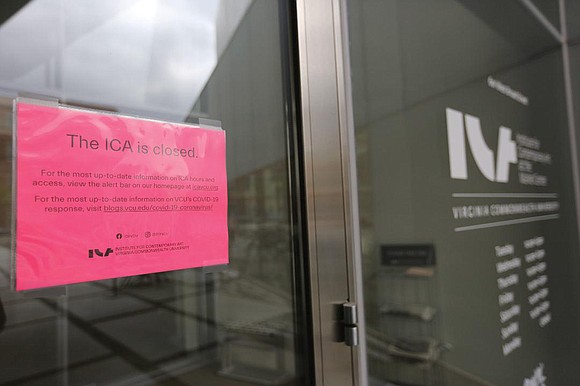 Phillip Patterson has worked in various positions at the Marriott Hotel in Downtown for the past eight years – housekeeping, bellman, shuttle driver and maintenance engineer.
Elton G. Christian Jr., a veteran cook, has been serving up savory barbecue, ribs and brisket at Pig and Brew, a restaurant in South Side, for the past two years.
Both never expected to be laid off.
But suddenly, they have joined the growing legions of the unemployed who have lost jobs because of the business-killing coronavirus. The virus is creating widespread damage to a previ- ously robust economy in the Richmond area and beyond.
While hiring is still underway for health care workers, delivery drivers, grocery store employees, postal workers, sheriff's deputies, police officers and other government positions, others jobs are being swept away, including those of restaurant employees and other service workers and those in the travel and tourism industry.
Like state agencies across the country, the Virginia Employment Commission has been slammed with applications for unemployment benefits from workers who have lost their paychecks as public, private and nonprofit entities downsize or close.
While new data will be released Thursday, the impact of social distancing and shelter-in-place directives can be seen in the rise in the number of filings for unemployment.
In Richmond, for example, 112 people filed for unemployment in the week ending March 14. But between March 14 and March 28, more than 7,500 people filed for unemployment, the VEC reported. That includes 3,070 people who filed between March 14 and March 21 and 4,504 people who filed between March 21 and March 28.
The same surge in unemployment claims can be found in Chesterfield County, where 83 claims were filed in early March. But claims surged to 1,970 in the third week of March and 4,219 applications in the fourth and final week of March.
In Henrico County, unemployment claims jumped from 79 in early March to a total of 6,600 in the final two weeks of the month.
In a region that reported nearly 700,000 people employed in February, the loss of 21,000 jobs is not an immediate disaster. But it is the speed of the losses and the potential of a continuing surge that has many people concerned and has led the federal government to beef up and extend benefits an extra 13 weeks.
Statewide, the VEC reported that a record 112,497 people filed for unemployment in the final week of March. That's the largest number of initial claims in a week since records began being kept. It also added to the record 46,277 people who filed for unemployment statewide in the third week of March.
Previously, initial weekly filings from more than 20,000 people were considered outsized.
Again, in a state where 4.3 million people were employed in February, the numbers are more a harbinger of worsening business conditions in a broad swatch of the economy.
Nationally, as of March 28, more than 6.6 million people had filed initial unemployment claims, the highest number in one month since figures began being reported.
In Virginia, benefits, while not taxable, have not been huge. Payments range from $60 to $378 a week depending on salary and time on the job. The top payment goes to people who earned at least $18,900 in a six-month period, which equals $3,150 a month.
But based on recent action by Congress, people approved for unemployment automatically will receive a $600 boost in their weekly payment through July 31, according to the Virginia Poverty Law Center, adding a measure of relief for those who have lost their jobs.
There also is the prospect of additional income from a federal stimulus check of $1,200 per adult, $2,400 per couple — with an additional $500 for each child under 16 — that is to be dis- tributed to people with incomes up to $75,000 per individual and $150,000 per couple. For individuals with incomes between $75,000 and $99,000, or couples with incomes between $150,000 and $198,000, the stimulus benefit will be reduced.
While Mr. Patterson and Mr. Christian wish to work, they also have a cushion of support. Mr. Christian, 49, is married, and his wife, Audrey, is still receiving her monthly income.
"We'll get through this," she said.
Mr. Patterson, 34, was among at least 47 people who were furloughed last week from the Marriott, including his girlfriend with whom he lives. He also is confident that both can weather the situation.
In addition to his job at the hotel, Mr. Patterson makes side money as a concierge barber who travels to clients' homes. He currently has 10 clients. His girlfriend also has a second job with a behavioral health company. The two expect to receive $450 a week in unemployment benefits, with the amount growing as each qualifies for the extra $600 a week.
"I am not stressed," Mr. Patterson said, noting that he doesn't have children, a mortgage or several car payments each month like many families.
"I always lived below my means so I'm prepared for the COVID-19 unemployment problem," Mr. Patterson says.
In his view, this is a time for frugality.
"Evaluate expenses you don't really need in your life – gym memberships or expensive cell phones you can downgrade – and make a plan for yourself and your family," he said. "We don't know when life is going to get better."