Personality: Kevin Holder
Spotlight on president of Iota Sigma Chapter of Phi Beta Sigma Fraternity during centennial
12/10/2020, 6 p.m.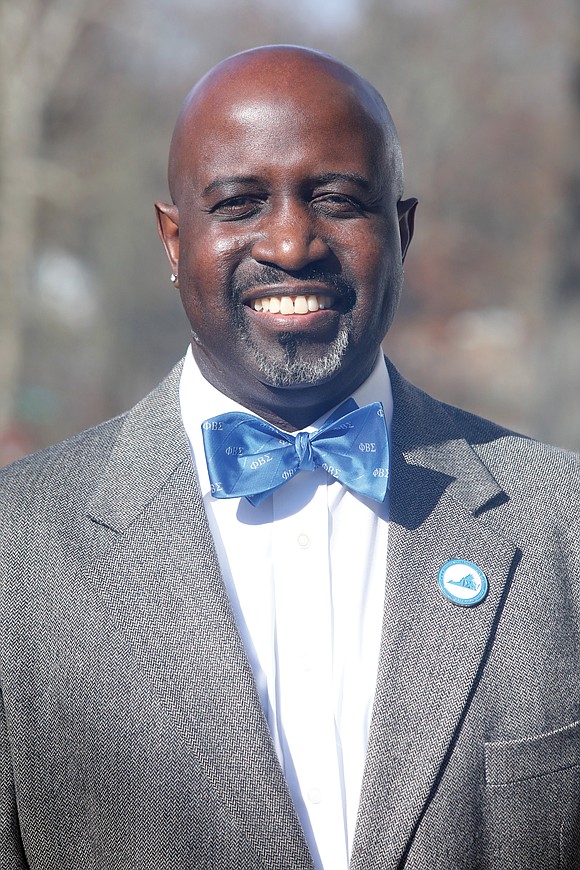 Six years after Phi Beta Sigma Fraternity was created at Howard University, a new chapter was established in Richmond in the summer of 1920.
Initially known as the Richmond Alumni Chapter, the Iota Sigma Chapter continues to promote its mission of solidarity and service as it celebrates its 100th anniversary under the leadership of Kevin Holder, chapter president.
"I wanted to see Iota Sigma continue to thrive as a chapter and make a positive impact in the community through our programmatic thrusts — Bigger and Better Business, Education and Social Action," says Mr. Holder, who has served two consecutive terms at the helm.
The COVID-19 pandemic has led to significant alterations in thechapter'splannedcentennial celebration, its monthly meetings and its community efforts. But, according to Mr. Holder, chapter members remain committed to the mission and to taking action.
The roughly 90 members that make up Iota Sigma still conduct a number of community initiatives, including mentoring boys ages 13 to 18, hosting school supplies and book drives for area schools, holding seminars to explain veterans' benefits for those who served in the military and financial literacy workshops.
Even with the pandemic, Iota Sigma's work expanded this year to include a letter-writing and phone campaign calling on elected officials to support police reform. And before the Nov. 3 election, the chapter held a voter awareness event, Mr. Holder notes.
The chapter also assisted in distributing Chromebooks to students at Richmond's George Wythe High School, among other community efforts.
Iota Sigma also supports several area Black-owned businesses as part of its Black Spend Initiative. And it supports collegiate chapters of the fraternity at Virginia Union University, Virginia Commonwealth University, the University of Virginia, James Madison University and Longwood University.
For Mr. Holder's part, the Harlem native has handled his presidential responsibilities while continuing his effort to see his vision for the chapter realized. Already, the chapter has exceeded its goal of members performing a combined 1,000 hours of community service during the year.
Mr. Holder has more plans in mind and intends to run for a third term as Iota Sigma Chapter president. He says he knew from the start that his work to uplift the chapter couldn't be done in a single, one-year term.
But even if he doesn't win re-election, Mr. Holder says he plans to stay a committed and invested member of Iota Sigma to help ensure the 100-year old chapter has a bright future.
"I'm proud of what we've accomplished," Mr. Holder says, "and I don't take lightly the legacy that Iota Sigma has created and the shoulders of the ancestral brothers that we stand on. But just standing on the shoulders of giants doesn't mean that that's as far as we can go.
"We can always aspire higher and increase output and do more for the community. I just want to be a part of that wherever I can."
Meet a dedicated community and fraternity leader and this week's Personality, Kevin Holder:
No. 1 volunteer position: President, Iota Sigma Chapter, Phi Beta Sigma Fraternity.
Date and place of birth: Dec. 10 in Harlem, N.Y.
Where I live now: Chesterfield County.
Occupation: Social worker.
Education: Bachelor's in social work, City University of New York; and master's in social work, Virginia Commonwealth University.
Family: Daughter, Kiara; grand-daughter, Ari; and son-in-law, Kenny.
Phi Beta Sigma Fraternity is: A brotherhood of college educated men whose goal is to exemplify our motto, "Culture for Service and Service for Humanity."
Founders: A. Langston Taylor, Charles I. Brown and Leonard F. Morse.
Mission of organization: To stimulate cultural and educational development in our community, and to promote the ideals of brotherhood, scholarship and service in all of our endeavors.
Number of chapters: 800-plus.
Iota Sigma Chapter, Phi Beta Sigma Fraternity was founded: Summer of 1920.
Brief profile of chapter membership: We are a group of men spanning many different professions, from lawyers and accountants to teachers and business owners.
Number of members nationally and locally: Approximately 90 members locally; 150,000-plus members nationally.
Phi Beta Sigma Fraternity's colors: Royal blue and pure white.
When Iota Sigma Chapter welcomes new members: We conduct chapter membership intake in the spring of each year. A potential member should reach out to a member of our chapter or directly to us through our website, www.richmondsigmas.org. Our membership chair will follow up regarding next steps in the process to become a member.
How Iota Sigma Chapter marked its 100th anniversary: We commemorated our 100 years as a chapter by hosting a virtual centennial celebration on Nov. 14 that was open to the public.
Iota Sigma Chapter pride means: Leadership through service. We bring creative and fresh ideas to the table then see them through to execution.
When first elected chapter president: Dec. 13, 2018. Re-elected in 2019.
Number one goal or project as president: To be a brotherhood of conscious men actively serving our communities.
How COVID-19 is affecting chapter's mission: This pandemic has affected us by stopping in-person monthly fraternity meetings. We also had planned a Centennial Gala to celebrate this occasion. Our meetings and centennial celebration moved to a virtual video conferencing format. Despite these setbacks in gathering, we still moved forward with our educational development initiatives, focus on Black-owned businesses and community service while using safe social and physical distancing guidelines.
Lessons learned during pandemic: Now is a time more than ever when our community needs us. Everybody can do something!
How chapter participates in the community: We conduct seminars to explain veterans' benefits for those who served in the military. Our Sigma Beta Club is our youth auxiliary club where we mentor boys ages 13 to 18 every month. We conduct free retirement planning webinars and financial literacy workshops. We conducted a letter-writing and phone-calling campaign directed at our elected officials to support police reform. We do school supply drives and book drives for schools in Chesterfield, Richmond and Henrico. We conducted a voter awareness event as we were ramping up for the election season. As part of our Black Spend Initiative, we support several different Black-owned businesses locally. We assisted Richmond Public Schools in its Chromebook distribution to students at George Wythe High School. Families in need with infants and toddlers received donations of diapers in the spring through a program called Families First. That is just a snapshot of the work we have done in the community this year.
How I start the day:I do a number of different stretches on the floor then go to the kitchen to do some fruit/vegetable juicing.
Three words that best describe me: Resilient, organized and ambitious.
Best late-night snack: Tic Tacs.
How I unwind: I like to travel as much as possible, especially cruising.
Something I love to do that most people would never imagine: I like to write poetry.
Quote that I am most inspired by: "Forward ever, backwards never" – Dr. Kwame Nkrumah
At the top of my "to-do" list: Meditation and practice yoga.
Best thing my parents ever taught me: My parents taught me to pay myself first and to always treat people with kindness because that will come back to you when you least expect it.
Person who influenced me the most: My mom. Her quiet strength and presence has always taught me to listen first, THEN speak.
Book that influenced me the most: "The Autobiography of Malcolm X" by Malcolm X as told to Alex Haley.
What I'm reading now: "The Truths We Hold: An American Journey" by Kamala Harris.
Next goal: I want to learn how to speak Spanish fluently.