VCU student delivers main speech at winter commencement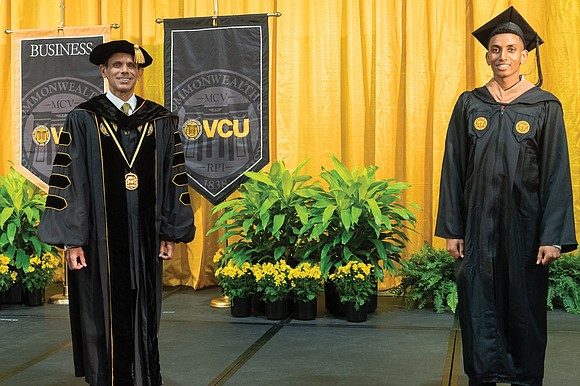 Creativity and a willingness to adapt are paramount.
Those were the key points stressed by Solomon Workneh of Arlington, a member of the Class of 2020 who served as the inaugural student speaker at Virginia Commonwealth University's 2020 winter commencement.
The ceremony, held online last Saturday, included video clips and photos from graduates to mark their experience at VCU, which included a campus shutdown earlier this year because of the coronavirus.
Degrees were conferred upon more than 2,200 graduates from the summer and fall semesters.
Mr. Workneh, who received his bachelor's degree in information systems from the VCU School of Business, told
his fellow graduates that he learned that "creativity is always a competitive advantage." In the face of challenges raised by the pandemic, he said, "let's remember to adapt."
"Like businesses, we will have to creatively adapt moving forward in our lives and careers," Mr. Workneh said. "This will mean we will have to adapt to things that are new to us like online interviews, or maybe even creating a new way to market your skills. But with our experience at VCU, I believe it will help us maneuver better during this time."
During his remarks, VCU President Michael Rao saluted the graduates for successfully facing a so many challenges during COVID-19.
"I am so proud of your hard work during the COVID-19 pandemic," Dr. Rao said. "You make me so proud. Lives are being
saved because of your volunteer work with local and state agencies, tracing disease transmission. You've also exhibited great care for your fellow Rams, your loved ones and people in our community, and you've done this through personal preventative measures. You've made VCU a story of tremendous success through this pandemic, and it's nothing short of profound."
During the ceremony, VCU presented Dr. Kenneth S. Kendler and Dr. Steven Woolf, both professors in the VCU School of Medicine, with the Presidential Medallion. The award, established in 1984, honors outstanding contributions by members of the university community.
Dr. Kendler is director of the Virginia Institute for Psychiatric and Behavioral Genetics at VCU; Dr. Woolf is director emeritus of VCU's Center on Society and Health.