Marking time and history
2/7/2020, 6 a.m.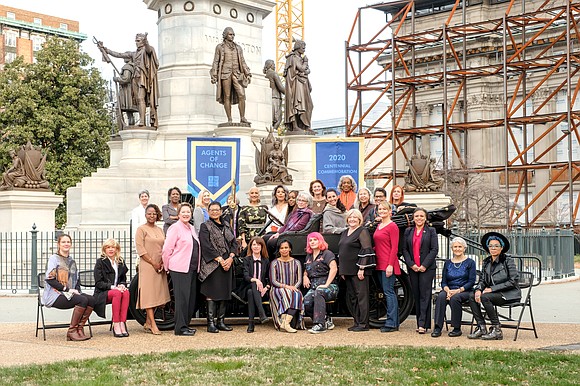 Commemorating the 100th anniversary of the passage of the 19th Amendment to the U.S. Constitution granting women the right to vote, the Virginia Museum of History & Culture selected 20 women to re-create a 1915 photograph of suffragists taken at the State Capitol in Downtown. Like the women in the old photograph, the contemporary group is made up of individuals "fighting to break barriers for women, to improve their communities and to make Virginia a more equitable and just society," according to museum officials.
Photographed Monday, they include: Richmond Free Press photographer Regina H. Boone; Chief Lynette Lewis Allston of the Nottoway Indian Tribe; Viola O. Baskerville, former Richmond delegate to the General Assembly and former state secretary of administration; Diane Marrow Beirne, executive director of The Woman's Club and the Bolling Haxall House Foundation; former Congresswoman Leslie Byrne, the first woman to represent Virginia in the U.S. House of Representatives; muralists and painter Nico Cathcart; Constance Chamberlin, former chief executive officer of Housing Opportunities Made Equal; attorney Sylvia Clue, founder of The Woman's Bank; Christy S. Coleman, executive director of the Jamestown-Yorktown Foundation; Doris Crouse-Mays, president of the Virginia AFL-CIO; Dr. Andrea N. Douglas, executive director of the Jefferson School African-American Heritage Center; Rachel Scott Everett, one of the lead organizers of the Richmond Women's March; Aurora A. Higgs, LGBTQ rights activist; Kati Hornung, campaign coordinator for VAratifyERA; Dr. Tiffany Jana, chief executive officer of TMI Consulting Inc.; Katie Koestner, executive director of Take Back the Night Foundation; Emily McCoy, women's rights activist; Claudette Monroy, educa- tor and immigrant rights advocate; Angela Patton, chief executive officer of Girls for a Change; Jennifer Hoyt Tidwell, founder of Charlottesville Lady Arm Wrestlers; Keri Treadway, Richmond Public Schools teacher and founder of Virginia Educators United; Sandra Gioia Treadway, librarian and State Archivist of Virginia; Deb Wake, president of the League of Women Voters in Virginia, the successor to the Equal Suffrage League; Dr. Janice B. Underwood, state director of diversity, equity and inclusion; Bes- sida Cauthorne White, civil rights and feminist activist and leader of the Middle Peninsula African-American Historical and Genealogical Society; Shayy Winn, American Idol contestant and supporter of Live Art, The Richmond Youth Peace Summit and Generation Dreams; and Chelsea Higgs Wise, social worker and social justice advocate.
The photograph, called "Today's Agents of Change," will be unveiled Mary 8 in the exhibition, "Agents of Change: Female Activism in Virginia from Women's Suffrage to Today," at the Virginia Museum of History & Culture, 428 N. Arthur Ashe Blvd.