Love Stories
The Free Press proudly presents its annual Valentine's Day feature sharing the Love Stories of four Richmond area couples.
2/14/2020, 6 a.m. | Updated on 2/14/2020, 2:57 p.m.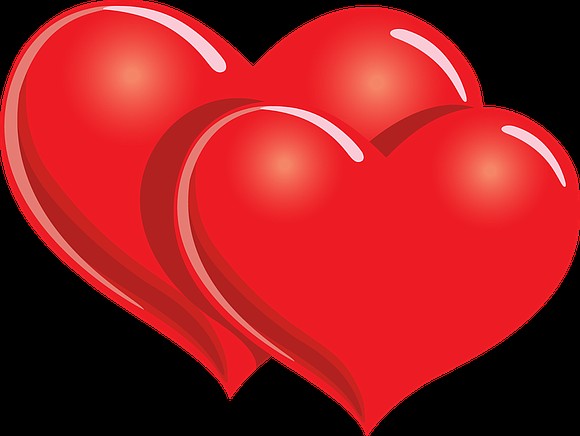 Love At Second Sight
Paula Saylor-Robinson and Danny Robinson
Married 34 Years
Neither of us attended graduate school with the intentions of finding a soulmate, but that's the thing about love — it doesn't much care about your plans.
Truth is, I don't remember the first time I was introduced to Paula. It's not that she didn't make great first impressions. Far from it. She was a beautiful coed with big, expressive eyes, a quirky little smile, an endearing laugh, a killer sense of style and, as it turns out, a good memory.
She remembers meeting me: "A tall, handsome brother with a low-top fade, trimmed mustache, sporting a pink polo with socks to match." It was the '80s, after all.
Luckily for me, the forward momentum of destiny would not be slowed, and a few weeks later we met again.
It was love at second sight.
In spite of our fireworks-free first encounter, Paula and I continued to meet. We found each other in the stacks of books in the library, in the dorm's common areas, in the doorways of classrooms, then, as witting accomplices at Clarke's Grill for fish sandwiches, the Greenbriar Mall for window shopping and the Buckhead Theater for an Alfred Hitchcock movie marathon.
It was in those days that I began to understand why, perhaps, our first encounter didn't register like the seismic waves written about in romance novels.
Our relationship, like a Hitchcock thriller, was a slow burn. We were at first classmates, then acquaintances, then friends, then close friends. We confirmed the cliché that bonds rooted in friendship are difficult to break, outlast the heart-racing rush of the superficial and outlive the haze of infatuation.
As the Atlanta spring turned into the summer of 1983, we fell in love. And like the Georgia summers, things got hot.
Less than two years later, we were married. And after more than 34 years of wedded joy, we remain the best of friends. Because that was always the plan.
Danny Robinson is chief client officer at The Martin Agency.
Paula Saylor-Robinson is director of audience development and community engagement at the Virginia Museum of Fine Arts.
Student protest leads to a lifetime of activism and love
John Taylor and Dr. Mati Moros
Married 29 Years
Matilde and John met at a student protest at the College of Wooster, a small liberal arts college in a small town in Northeast Ohio.
Matilde, also known as Mati, joined students protesting against the college's investments in companies doing business
in South Africa, which was ruled under apartheid at that time. John, who was a leader in the campus movement, was pleasantly surprised to see this new student at the protest and even defended Mati's activism when a fellow student criticized her presence there.
Naturally, John and Mati became fast friends and revamped the campus peace organization together. Outside of their activism, they shared many friends from all over the world and interests in dance, cinema and theater. After many months of enjoying a deep friendship, they began dating.
Their passion for social justice and their new found relationship led to marriage, and they traveled far and wide, initially living in Southern Florida and between New York and Pennsylvania. Through an internship with their church, they traveled for two years to Colombia and then to Venezuela, where many members of Mati's family lived.
They lived many years in Louisville, Ky. Eventually, studies for Mati led them to Cambridge, Mass., and Princeton and Madison, N.J. During these years, they welcomed their children, Alexa, Omar and Ali, into the world.
John, Mati and family happily arrived in Richmond in the summer of 2014, initially motivated to be closer to John's family in Williamsburg. They immediately felt at home and bought their first home in North Chesterfield.
Now, three children, three dogs and many moves later, they are about to celebrate 30 years of marriage as they continue to love the world together where working toward social justice continues to be their focus.
John Taylor is associate director of Side by Side. Dr. Matilde Moros is an assistant professor in the Department of Gender, Sexuality and Women's Studies at Virginia Commonwealth University.
Anti-Valentine's Day party sparks heartbeats and love
Jonathan Adams-Boyles and James Adams-Boyles
Married 7 Years
We knew each other at the University of Virginia, but the spark didn't hit until after Jonathan had graduated and moved to Brooklyn, N.Y.
Ironically, the spark hit at an Anti-Valentine's Day party in 1996, when Jonathan returned to Charlottesville to DJ the party. James was finishing his final year at U.Va. and attended the party at Jonathan's invitation.
From there, we had a long-distance courtship full of postcards, letters and mixtapes. (The cassette titled, "The Beautiful Boy Blues" still holds up.) By the end of 1996, James moved to Brooklyn.
After 17 years of courtship — and the arrival of marriage equality — we got married in 2013 at the top of Fort Greene Park in Brooklyn. One year later, our twin sons, Oliver and Channing, were born and have kept us busy ever since. In 2018, we moved to Richmond for Jonathan's job and to be closer to family.
Valentine's Day is a special day in our house. It's our original anniversary and it's also the birthday for our dog, Buzz St. Valentine, who turns 13 this year.
The last 24 years have been a whirlwind. We've hiked Mount Kilimanjaro, danced the night away and seen many sunrises. Being alive is hard work and being married is even harder, but with laughter, joy, service and more dancing, it can seem easier. And, according to Jonathan, James' smile doesn't hurt.
Jonathan Adams-Boyles ,left, is an employee benefits and executive compensation attorney at Troutman Sanders. James Adams-Boyles is a stay-at-home dad and serves on the board at St. Thomas Day School.
From paperboy to life partner
Charles J. Lambert and Erika Nixon Lambert
Married 9 Months
I met Charles when I was 8 years old. He was our neighborhood paperboy on Noble Avenue in Richmond's North Side. Our education took us in different directions; Charles attended North Carolina A&T State University and I attended Virginia Commonwealth University.
During a holiday break, we ran into each other at
one of the annual Lambert Christmas parties. We spent the evening reminiscing about Noble Avenue, but again went our separate paths, with Charles pursuing an engineering degree while I was pursuing a chemistry degree.
After graduation, I decided to have a girls' night out at the Hyperlink Café on West Grace Street. I looked across the bar and there was Charles. He was one of the owners. We were so excited to see each other.
Over the years, we continued to run into each other at social events. A few years later around Thanksgiving, we attended a party and were having so much fun that it was almost like the party was not going on around us. We snapped a picture together at the end of the night, but lost touch.
Charles was busy with commercial real estate ventures and I was busy running a small busi- ness, in addition to going back to school for post-graduate studies.
Then one night, he called me and said that he looked at the picture and was thinking about me. I told him I was thinking about him, too.
He asked me out to dinner. I had butterflies getting ready. He invited me to "The Nutcracker" to see his goddaughter, Melania Lambert, perform.
After the show, we grabbed dinner and Charles looked at me with those beautiful, thick eyebrows and said that he wanted a future — with me in it.
Seven months later, he surprised me with a beautiful engagement ring hidden in a box of my favorite truffles.
Erika Nixon Lambert is a pathology technologist and student at VCU Health and owner and lead makeup artist of Makeup on Demand. Charles J. Lambert is LAN administrator with Dominion Energy.