Honoring Rep. John Lewis
7/23/2020, 6 p.m.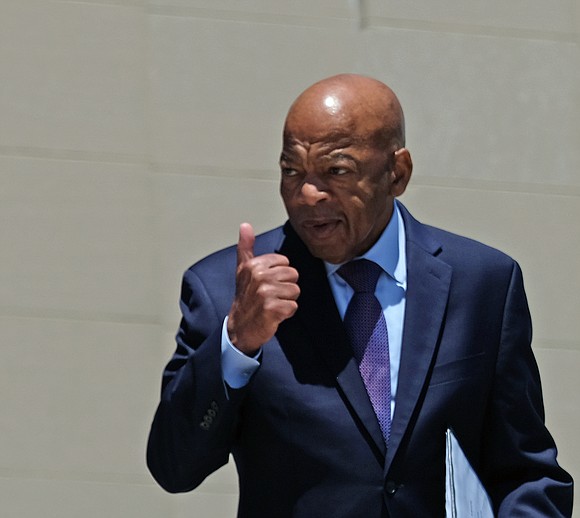 Congressman John Lewis was an inspiration.
Despite being arrested more than 40 times, beaten and bloodied by police, Ku Klux Klan members and bigots, he never gave up the fight for civil rights, voting rights and equal justice in this nation.
His lifetime dedication and action in the streets and in Congress leave a legacy that benefits all of us and offers a lesson for all to emulate.
Rep. Lewis left Richmonders with numerous pearls of wisdom last year when he spoke at the June 22, 2019, dedication of the new Arthur Ashe Boulevard. At the time, he recounted one story about the bloody fight for the right to vote that we share here:
"When I was growing up and working in the heart of the Civil Rights Movement, people had to count the number of bubbles on a bar of soap (in order to vote), the number of jelly beans in a jar. People stood in immovable lines.
"We no longer have to count the number of jelly beans in a jar. No longer do we have to count the number of bubbles on a bar of soap because somebody somewhere at some time gave a little blood.
"And during this season that's coming up, none of us – and it doesn't matter whether we are Black or white, Latino, Asian American or Native American, straight or gay — we must turn out and vote like we never ever voted before.
"Our democracy is in trouble — deep trouble. We must save our democracy and save our country. We can do it. We must do it."
You only have to read, watch or listen to the news for a few days to understand the peril facing our nation and our democracy under the current regime in Washington:
• Federal storm troopers, under the command of the president, sent to round up protesters from the streets in Portland, Ore., with the president threatening to order them to do the same in Chicago, NewYork, Boston and other major cities.
• The U.S. Postal Service being cut, which is expected to hamper the anticipated large volume of absentee ballots from people voting by mail.
• Plans from the White House to block new federal money for coronavirus testing, tracing and the federal Centers for Disease Control and Prevention.
• Threats by the U.S. secretary of education to cut federal funds from public schools if they don't open for in-person classes.
As Rep. Lewis said, our democracy is in trouble — deep trouble.
We urge Richmonders and people across Virginia and the nation to honor Congressman Lewis' legacy by voting this November.