City launches aid efforts to help businesses damaged in protests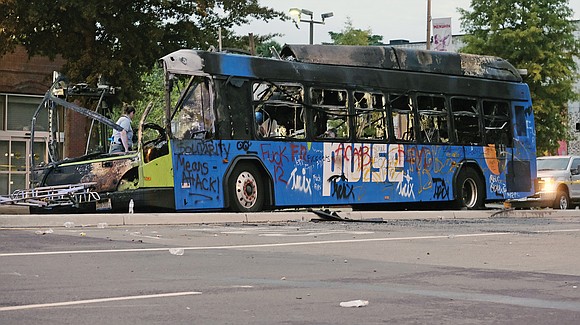 Recovery help is on the way for Richmond businesses damaged by vandals during the local protests over a white Minneapolis police officer's killing of George Floyd.
City Hall is creating a $500,000 fund to provide grants to damaged businesses, particularly small and minority-owned businesses.
Separately, two area corporations, Dominion Energy and Altria, each are setting aside $5 million through their charity arms to provide similar funding to businesses and to support organizations involved with racial equity.
Dominion is accepting applications at www.dominionenergy.com/foundation.
Altria officials said their application process is being developed and will be announced later.
The city also is setting up a new program that would award $10,000 per business through the city's CARE (Commercial Area Revitalization Effort) Program, according to Leonard Sledge, city director of Economic Development.
He told City Council on Monday that about $500,000 has been identified for such grants, with $250,000 to be reserved for businesses owned by African-Americans and other minorities.
Between May 29 and June 1, numerous businesses along Broad Street had windows smashed, with a few looted and at least two set on fire.
The grants would cover costs not picked up by insurance, such as out-of-pocket deductibles, graffiti removal, window and door replacement and possibly inventory, Mr. Sledge said.
He said the money, to be administered through the Economic Development Authority, would reimburse applicants for documented expenses they have paid.
The new program is on top of a $3 million COVID-19 relief program that Mr. Sledge said would aid businesses seeking to restart. The city received the money through the unrelated federal CARES Act. It is to aid small businesses, including restaurants, in securing funding to clean and handle other expenses related to reopening.
Businesses with an annual revenue of less than $5 million are the primary target of the recovery effort, Mr. Sledge said.
Mr. Sledge said his department is working to get both programs off the ground as quickly as possible.