Clergy testify to outrage, hope in D.C. demonstrations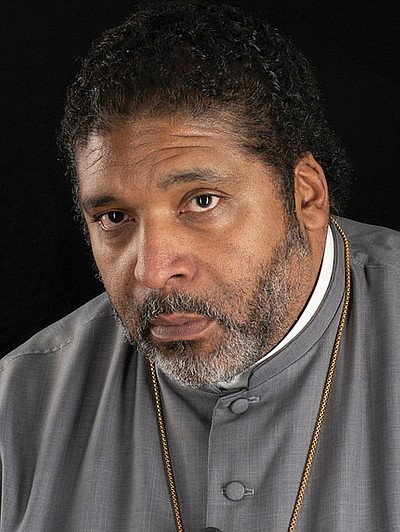 A series of religious demonstrations in Washington last weekend mixed prayerful calls for racial equality with frustration with law enforcement, lawmakers and the Trump administration.
Thousands of churchgoers and clergy, most of them African-American, assembled last Sunday at the National Museum of African American History and Culture to march to the newly christened Black Lives Matter Plaza — previously known as 16th Street Northwest at it passes the White House.
Once there, participants organized by the NAACP and Alfred Street Baptist Church, a prominent black church in Alexandria, Va., prayed and kneeled along the street, which is currently painted with the words "Black Lives Matter."
"We're here because of what happened with Ahmaud, Breonna, with George, (and) Rayshard," the Rev. Howard- John Wesley, pastor of Alfred Street Baptist, told the crowd, listing the names of African-Americans who have been killed recently in encounters with the police and alleged vigilantes. "We know that, sadly, that's what we've been living with for the entirety of our time in this nation. ... It's important that this nation know that we have not forgotten, that we do not have racial amnesia."
Just before noon, the Rev. William J. Barber II, co-chair of the Poor People's Campaign and pastor of Greenleaf Christian Church in Goldsboro, N.C., delivered the sermon at the Washington National Cathedral's Sunday Eucharist service.
A few hours later, Rev. Barber appeared in front of St. John's Episcopal Church, across Lafayette Square from the White House, to deliver a similar message alongside Sikh, Christian, Muslim and Jewish leaders who gathered to protest racism, police brutality and President Trump.
Rev. Barber highlighted the recent killing of George Floyd in Minneapolis, who begged for breath as a police officer kneeled on his neck for 8 minutes and 46 seconds.
"Every time the church and religious people have seen these deaths and buried folk and sent them to heaven but did not fight for change here — that keeps this stuff alive," Rev. Barber said.
He said the killing of African-Americans by police is only one form of racism, pointing to disparities in health care access, wages and the treatment of indigenous people.
"What George Floyd spoke is shorthand for all our pain: I can't breathe," he said.
He criticized the Trump administration's response to the coronavirus pandemic as "negligent," noting that the poor and people of color are disproportionately represented among its victims — including George Floyd.
"If we had had cameras in hospitals, how many times would we have heard 'I can't breathe'?"
Rev. Barber also lauded activists who have been marching for weeks, citing in particular those who are not motivated by faith.
"Sometimes the people in the street have been more prophetic than the religious folk! We must repent of that!"
Among the faith leaders at the gathering was Bishop Mariann Budde, the Episcopal Bishop of Washington who fiercely criticized President Trump after demonstrators — including clergy — were cleared from Lafayette Square by law enforcement on June 1 shortly before the president posed for cameras in front of St. John's Church while holding a Bible aloft.
St. John's Church has become the epicenter of protests in Washington ever since, and Bishop Budde, who prayed at the gathering, said religious leaders have a role to play.
"The church has left the building," she told RNS. "We're not just in the building. We never were, but now we're like: This is God's sanctuary, and let's be here."
"The United Methodist Imam Talib M. Shareef, president of the Nation's Mosque, Masjid Muhammad, in Washington, said people of faith should lend a hand by helping demonstrators channel frustration into a positive force for good.
"The role of people in faith ought to help us keep our humanity," he said. "If we are consumed by the anger, (then) we will lose our humanity."