On Dr. Seuss' birthday, Overby-Sheppard students learn the fun of reading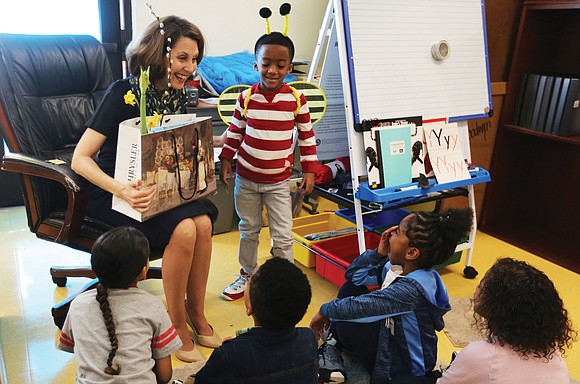 At Overby-Sheppard Elementary School, Read Across America Day on Monday was filled with inspiring stories read to youngsters featuring characters reflecting their ethnic backgrounds.
As the school lobby buzzed with excitement and anticipation, an assembly of community members arrived to read to kindergarten and first grade students.
Read Across America, established by the National Education Association in 1997 as an initiative to help youngsters get excited about reading, is also known as Dr. Seuss Day because it typically comes on March 2, the birthday of the noted late children's author, Theodor Seuss "Ted" Geisel. Often, at Read Across America events, Dr. Seuss' books are among those read to students.
At the school in Richmond's Highland Park, special guests reading to the students included Virginia First Lady Pamela Northam, Richmond Schools Superinten- dent Jason Kamras, National Education Association Secretary-Treasurer Princess R. Moss of Louisa County, 4th District City Councilwoman Kristen N. Larson, former Richmond Juvenile Court Judge Angela Roberts, Richmond Sheriff Antionette V. Irving, former Sheriff Clarence C.T. Woody, several firefight- ers and police officers and others.
Mrs. Northam, who was once a high school science teacher, read "When Spring Comes" by Kevin Henkes about the coming of spring. Leaves unfold, flowers blossom and grass turns green, the story said.
Kindergartners in Monique Goodw- yn's class listened attentively, answered questions and eagerly participated with activities Mrs. Northam prepared for them, such as feeling a radish plant with its stem and roots, smelling a bulb's new blossom and investigating a flowering plant, yet to bloom, which she left for the students to enjoy as it flowers in the coming spring.
One of the students, Jahmir Johnson was delighted Ms. Northam asked him to don black and yellow bumble bee wings and antennae to help illustrate one of the signs of the coming of spring.
Mrs. Northam then gave each student a silver coin with Virginia's state bird, the cardinal, on one side, and the seal of the Commonwealth on the other.
In her travels around Virginia, the first lady often talks about the importance of early childhood education.
"Literacy is everything," Ms. Northam said. "To be able to read, write and communicate is so impor- tant to our youngest children. Having exposure to words and books, as well as having wonderful teachers, is an excellent combination for success."
Before reading to his assigned class, Mr. Kamras said, "It is really important for the community to participate in Read Across America because reading is so fundamental to everything we do. The number one thing parents can do for their children is read to them, read with them and encourage them to read."
William Johnson, a 69-year-old retired Richmond firefighter and volunteer at Overby-Sheppard since 2003, was looking forward to reading "You Are Special" by Max Lucado, which introduces the idea of what being special means and if it matters.
"A lot of the children here don't realize they are special," Mr. Johnson said before heading to a classroom. "The book is really about God's plan for children's lives."
In 2016, NEArebranded ReadAcross America Day to celebrate America's diverse readers to focus on books that tell children of color or of different gender identities that they belong in the world and the world belongs to them.
At the end of the morning session, Overby-Sheppard's principal, Shayla Holeman, was all smiles as she visited classrooms and watched the special guests read to students.
"I think it is good for our children to see members of the community and to see that all members of the community care," Ms. Holeman said. "Having the first lady here is the epitome of that."