Injury not a setback for soccer standout who wins UR scholarship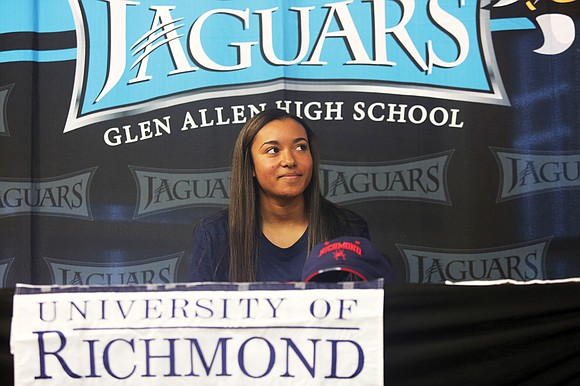 When an aspiring young athlete suffers a devastating setback, he or she has two choices:
They can moan "Why me?" and cry a river so deep they drown in it. Or they can grit their teeth, tighten their laces and bounce back.
Logan Anderson is bouncing back.
The Glen Allen High School senior has determinedly overcome an ACL tear to regain full capabilities and earn a soccer scholarship to the University of Richmond.
"She took it as a challenge," Richmond United Coach Andy McIntosh said of Anderson's determined comeback.
"Not only is Logan an excellent athlete and player, she's very driven."
During a practice session in February 2019, Anderson suffered a full tear to her right anterior cruciate ligament, or ACL.
Making it worse, she is right-footed.
There was no dilly-dallying. As soon as the injury was diagnosed, she began physical therapy—a month before her surgery.
And the day after the operation, she returned to physical therapy and kept her foot heavy to the pedal for the next 10 months.
So far, so good.
"My knee feels great," she told the Free Press. "I have a little tendonitis and I need to ice it after workouts. But I'm not wearing a brace."
The 5-foot-4 daughter of Chris and Linda Lambert Anderson of Western Henrico County missed her junior season at Glen Allen High, but returned toward the end of her club season with Richmond United in January.
"Every time I see Logan play now, she looks better and better — more dangerous" as a scorer, Coach McIntosh said.
Her senior season of soccer at Glen Allen High has been canceled because of the coronavirus pandemic.
Anderson, who turns 18 in April, lines up at forward, the most offensive position. She combines speed, agility and well- drilled technical skills.
Then there is something else.
"I try and be creative," she said. "I watch and develop an aware- ness of everyone on the field. I don't want to be predictable."
Anderson was heavily recruited by numerous colleges prior to her injury. Once word got out that she would require surgery, the phone calls, letters and texts began to dwindle.
"Everything went radio silent — that is, except for UR," said her mother. "Richmond Coach Marty Beall realized her potential and kept checking up. UR kept a spot open for her."
Anderson wound up choosing UR over Ivy League Brown University in Rhode Island.
There is much more to Anderson than kicking a ball around.
At Glen Allen High, she is a member of the National Honor Society, the Spanish National Honor Society and the Math National Honor Society.
Also, she serves as vice president of her senior class, while taking all Advanced Placement courses in Glen Allen's Center for Education and Human Development.
She hails from the well-known Lambert family of Richmond. Her grandfather was the late attorney Leonard Lambert Sr. Her parents are both attorneys, with her mother set to become a Henrico Juvenile and Domestic Relations District Court judge in May.
Her parents also were athletic. Her mother played tennis and softball at Douglas Freeman High School. Her father was a star athlete at Patrick Henry High School in Ashland and went on to play football at James Madison University.
Logan's 15-year-old sister, Kennedy, a Glen Allen freshman, is an up-and-comer on the soccer circuit.
The object of the game of soccer is to score goals. Anderson's goals at UR include more than just booting a ball into the back of the net, however.
"I'm hoping to be a hospital administrator, which means I need to combine business administration and health sciences. That's the end goal," she said.
Considering her proven history of not letting anything deter her, this knee surgery survivor appears a sure bet to attain whatever goals she seeks.