GRTC provides more protective gear to drivers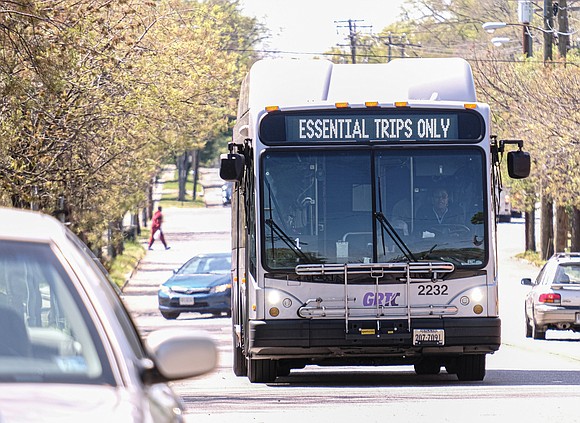 It took nearly two months, but GRTC is ramping up virus protection for drivers who have kept the public transit system rolling during the pandemic.
Four drivers have tested positive for COVID-19, including one who is hospitalized.
An order of 400 face shields arrived Monday and was being distributed to drivers willing to wear the extra layer of protection.
The face shields — 200 purchased and 200 donated — came from the online Good Work Society, a nonprofit coalition of volunteers that West Point resident and networking guru Larkin Garbee has created and runs as executive director.
Ms. Garbee, a Virginia Commonwealth University graduate, created the organiza- tion to connect Richmond area volunteers with access to 3D printers to produce the shields and RVAProjectShield to help get them made and into the hands of essential workers.
GRTC also is retrofitting an additional 87 buses and 88 CARE vans with protective shields to isolate drivers, spokeswoman Carrie Rose Pace stated. Driver shields previously were installed on 31 buses, she noted.
The company also is continuing to procure and provide cloth face masks, protective gloves and cleaning supplies to drivers and other staff, Ms. Pace added. The company earlier had stepped up disinfection of buses before they were sent on the road, eliminated fares and had riders enter through rear doors to reduce contact with drivers.
Julie Timm, GRTC's chief executive officer, is urging all riders to wear masks.
"Now that businesses are reopening," Ms. Timm stated, "many more people will need our services to get to work, and there is no ability to social distance on a packed bus. It's simple: Wear a mask."
Three weeks ago, GRTC and the president of the bus drivers' union, Local 1220 of the Amalgamated Transit Union, engaged in a verbal war over driver health and safety after 46 drivers called in sick on April 27, forcing service cuts that day. Some drivers indicated they were protest- ing what they saw as a less than adequate company response to the virus.
Ms. Timm initially threatened to withhold sick pay from the drivers who didn't report to work, but backed off after the first driver was reported to have tested positive for COVID-19 two days after the sickout. The case proved to be a false positive, but the finding changed the dynamic.
Between May 1 and 2, the company disrupted service to allow drivers and other workers to be tested for the virus. Three drivers ultimately were found to be infected, bringing the total of infected employees to four of 273 tested.
Three drivers tested positive for the coronavirus, but one driver, who initially tested negative, was retested after feeling ill and hospitalized, where she remains. Six other GRTC drivers with whom she had contact have been quarantined until May 21, Ms. Pace said. All apparently have tested negative for the virus.
Ms. Timm, in a public statement on May 8, expressed her concern for those infected and stated that the company "is working with the Virginia Department of Health to quarantine staff as needed to contain any possible spread and to identify proper testing frequencies for all GRTC staff moving forward."