New review of Marcus-David Peters case finds shooting justified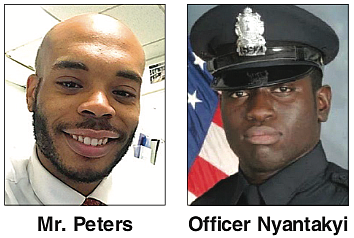 Once again, Richmond Police Officer Michael Nyantakyi has been cleared in the May 2018 fatal shooting of 24-year-old teacher Marcus-David Peters during what has been described as a mental crisis, although Mr. Peters' family continues to describe Mr. Peters' death as an unpunished murder.
After another review of the case, Richmond Commonwealth's Attorney Colette W. McEachin found that Officer Nyantakyi was justified in firing his weapon as Mr. Peters, naked and unarmed, charged him.
It is the same conclusion Mrs. McEachin's predecessor, former city Commonwealth's Attorney Michael N. Herring, reached in 2018.
"The officer's ultimate decision to use lethal force was a reasonable response to the imminent danger to himself and the public by Mr. Peters' continued violent behavior due to his mental deterioration," Mrs. McEachin wrote in concluding the 10-page report released Nov. 6 after a nearly 90-day review.
The case is somewhat different than other police shootings that have gained widespread national attention. Mr. Peters, Officer Nyantakyi and the city's prosecutor all are Black.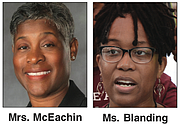 Still, many people protesting racial injustice and police brutality in Richmond consider Mr. Peters a martyr and have informally renamed the traffic circle around the Lee statue on Monument Avenue as Marcus-David Peters Circle.
The evidence in the new report largely mirrors that in the Herring report, although some new details are included. At the time, then Police Chief Alfred Durham also publicly released video of the incident captured by the officer's body camera.
Both reports note that Officer Nyantakyi got involved when he saw Mr. Peters' car hit another vehicle and then drive off on Franklin Street near Belvidere Street in Downtown.
The officer, who thought he was pursuing a felony hit-and-run suspect, only learned of Mr. Peters mental condition, the report noted, when Mr. Peters stopped his car in the grass next to the Belvidere Street entry ramp to Interstate 95 after hitting two other cars.
According to reports, Mr. Peters was naked and climbed out of his car through the window and ran onto the interstate. Officer Nyantakyi fired his gun after the naked and unarmed man ultimately charged him after a Taser shot did not incapacitate him. "It is what I expected," said Mr. Peters' sister, Princess Blanding, who has worked since her brother's death to hold the officer accountable. She also has been a key figure in pushing for a new state law to enable localities to create a Marcus Alert to ensure mental health professionals are called out to deal with someone in crisis.
Ms. Blanding, other members of Mr. Peters' family and social justice advocates had pressed for the Peters case to be re-opened after Mrs. McEachin was elected in 2019 after Mr. Herring resigned. Mrs. McEachin agreed to examine it again in August.
However, Ms. Blanding regards the new report as another cover-up of a police officer's killing of a Black man.
She said the shooting of her brother stands in contrast to other cases involving mentally ill white people, such as Matthew Bernard, who is now awaiting trial after allegedly killing three family members in Pittsylvania County in August 2019.
"Marcus was not violent toward anyone," Ms. Blanding said. "He was in his own world. He was unclothed and he did not have a weapon. He needed help, not death."
The new report recites the known, but also adds some additional details.
According to the report, Mr. Peters came home from teaching at Essex High School on May 14, changed clothes, smoked some marijuana with a person there and then left to visit a co-worker at the Jefferson Hotel, where Mr. Peters worked part time.
The situation took a bad turn at the hotel, where Mr. Peters stripped off his clothes, drove off in his car and then hit the other vehicle that led to Officer Nyantakyi's pursuit.
Mr. Peters, the report states, exited the car through the window after stopping on the grass beside the entry ramp, ran onto the interstate, was struck by a vehicle, then lay on the shoulder moving like he was making snow angels. He then saw the officer and advanced, leading to the fatal confrontation.
Only 76 seconds elapsed between Mr. Peters exiting his car and the shooting, the report notes.
Before the shooting, Officer Nyantakyi fired his Taser. The officer later reported it did not work.
However, Mrs. McEachin reported that an expert review found that the Taser connected, but the charge was delayed and lasted only two seconds. That was enough to buckle Mr. Peters' knees, but not stop him. Mr. Peters recovered and continued to advance on the officer, threatening to kill the officer, according to the report.
The report states that Officer Nyantakyi fired when Mr. Peters lunged and noted that witnesses who "observed the altercation confirmed that there was physical contact between the officer and Mr. Peters prior to the shooting."
Mrs. McEachin also included the findings of Kelly Furgurson, a Richmond Behavioral Health Authority staff member who directs emergency services for the mentally ill and coordinates RBHA's weeklong crisis intervention training for city officers on dealing with the mentally ill. Officer Nyantakyi had taken the course.
Mr. Furgurson reported that Officer Nyantakyi used the crisis intervention training appropriately, recognized that Mr. Peters was "mentally unstable" and called for assistance.
However, Mr. Furgurson also found "there was no time when both the officer and Mr. Peters were in a safe position to make communication and de-escalation possible."
He found the officer "did not yell at Mr. Peters or attempt to touch Mr. Peters," both of which are considered key to de-escalation. He also found the officer sought to keep a safe distance between himself and Mr. Peters as the officer awaited assistance.
Mr. Furgurson also noted that Mr. Peters appeared to have been "incapable of rational communication," which means that de-escalation techniques were useless. As Mr. Furgurson pointed out, "de-escalation can only be attempted once all parties are able to communicate from a safe position that is free from the threat of injury or death to either party."