Rev. Warnock locked in battle for U.S. Senate seat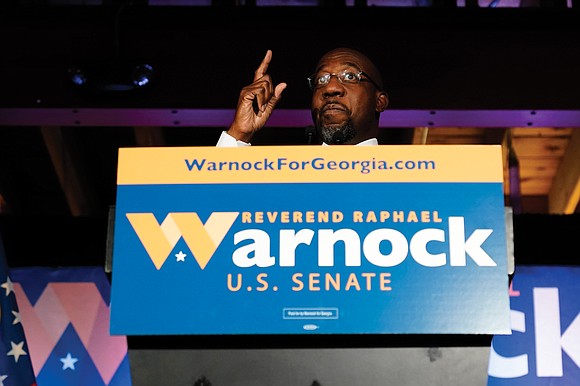 The Rev. Raphael Warnock, the 51-year-old pastor of Ebenezer Baptist Church in Atlanta, the historic church once co-pastored by the Rev. Martin Luther King Jr., is running as a Democrat for U.S. Senate in a special election in Georgia.
He will face Sen. Kelly Loeffler, the Republican incum- bent, in a runoff to be decided Jan. 5.
If elected, Rev. Warnock, would be the first Black U.S. senator in Georgia's history.
He has positioned himself as an heir to the late U.S. Rep. John Lewis, a fellow minister and fellow Georgian.
"If you need somebody who, in honor of John Lewis, will pass voting rights in the Senate so that every voice is heard," Rev. Warnock said in a speech on election night, Nov. 3, "if you need a voice crying out in the wilderness of Washington, here am I, send me."
He could face an uphill battle in a state that has not sent a Democrat to the Senate since Sen. Zell Miller won in 2000.
In the nonpartisan primary, Rev. Warnock finished Election Day in first place according to The Associated Press, but he benefited from the presence of third place finisher Doug Collins, a conservative Republican congressman, who likely denied Sen. Loeffler an outright win. The incumbent is now almost sure to inherit much of Mr. Collins' support.
Sen. Loeffler, who was appointed a year ago to serve out the term of Sen. Johnny Isakson, who retired due to ill health, had been fighting accusations that she sold stock after a private Senate briefing on the coronavirus in late January, before many investors knew the full scope of the pandemic.
The 11th of 12 children in his family, all brought up in public housing in Savannah, Ga., Rev. Warnock has focused his campaign on issues that affect poor and minority citizens in the state. He has championed the expansion of health care coverage and a living wage.
As pastor of Ebenezer, he has partnered with interfaith leaders on an initiative demanding an end to mass incarceration in a country that disproportionately imprisons Black Americans.
At a rally in Atlanta on Nov. 2, the day before Election Day, Rev. Warnock expressed confidence in his ability to rise to the top of the runoff contest, even though his name, alphabetically, was near the bottom of the list.
"I'm near the bottom, but that's all right, because that's where I was born," he said. "I was born near the bottom, yet I'm standing on this stage, running for the United States Senate. It is a testament to the promise of America and the grace of an almighty God."