32nd Annual 2nd Street Festival goes virtual Oct. 3 and 4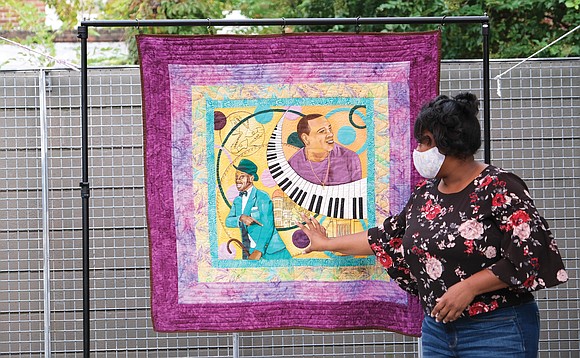 The 32nd Annual 2nd Street Festival in Jackson Ward will have a twist this year because of the coronavirus pandemic. Instead of thousands of people flocking to the Downtown neighborhood to enjoy the history, music, food and art, events will take place virtually.
The festival, sponsored by Venture Richmond, will take place Saturday, Oct. 3, and Sunday, Oct. 4, with live stream events from 6 to 7:15 p.m. on Saturday and 5 to 6:15 p.m. on Sunday.
Live performances Saturday include Legacy Band, EU, and Sports Backers Fitness Warriors and D&G Line Dancing. Live performances Sunday will include Desirée Roots, a musical tribute to the late Debo Dabney and the Virginia Union University Gospel Choir.
Viewers can see the live stream at VentureRichmond.com, or watch from Venture Richmond's Vimeo page, https://vimeo.com/venturerichmond, or the 2nd Street Festival's Facebook page, www.facebook.com/SecondStreetFestival.
Other virtual activities for the festival include cooking demonstrations with chefs from Croaker's Spot and Chef MaMusu of Africanne on Main; storytime for youngsters with the Children's Museum of Richmond and Candice Smith of NBC12 News; and balloon twisting demonstrations with Eddie Cook and Balloons By Extreme.
Also radio talk show host Gary Flowers will take virtual visitors on a tour of Sixth Mount Zion Baptist Church in Jackson Ward and the Maggie L. Walker statue at the gateway of the historic neighborhood. Longtime Jackson Ward residents and business owners will share their recollections about the area during the live stream event.
Vendors also will offer a variety of wares online before, during and after the festival.
Richmond artist Unicia R. Buster, a former graphic designer at the Richmond Free Press whose work has been shown in galleries from Rome to Long Island City, N.Y., was com- missioned to create the official poster for the festival. Her design, a large quilt art piece, was unveiled Sept. 23 at an event held by Venture Richmond at the Cabell Courtyard of the Visual Arts Center of Richmond.
The official poster may be purchased online or in person at Plan 9 Music in Carytown.
Festival details: https://venturerichmond.com/our-events/2nd-street-festival-2020.