Personality: Judith 'Judy' W. Pahren
Spotlight on board president of ChildSavers
10/1/2020, 6 p.m.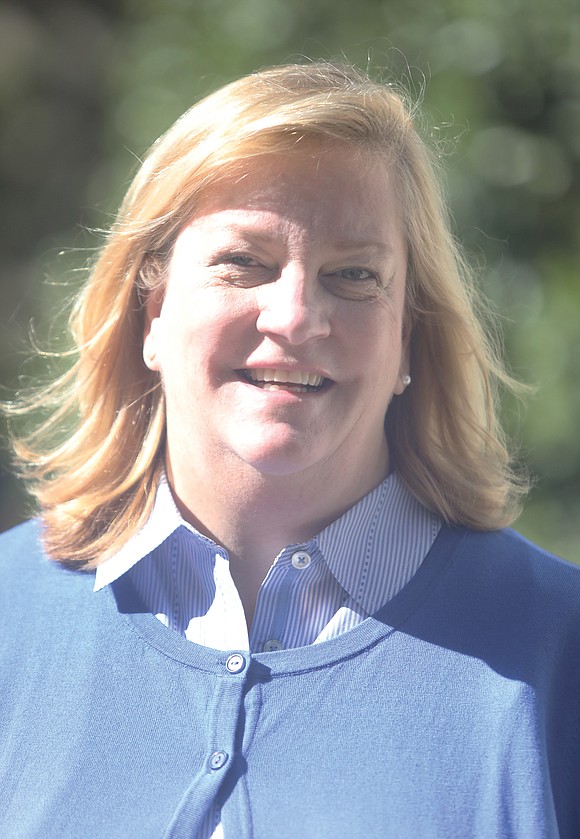 In the lingering aftermath of the 1918 flu pandemic, Children's Memorial Clinic was established in 1924 in response to the growing need for accessible mental health services for children who were born into or lived through the chaos and upset resulting from the virus.
Today, nearly a century later and in the midst of another pandemic that has claimed the lives of more than 3,100 Virginians, the Children's Memorial Clinic is now ChildSavers, which has stepped up to meet the challenges of the current pandemic head on under board President Judith "Judy" Pahren.
"We have really made the effort to try to continue to serve everybody we have," Mrs. Pahren says. "And we also know that as we move through this, there will be more challenges at the end based on the experiences people are having today."
After a 15-year relationship with ChildSavers serving in committee roles, the Richmond resident was elected board president in July. Mrs. Pahren praises the nonprofit agency's staff as the driving force of its impact on the public good.
"On my very first visit, I was deeply impacted by the work the staff does to support mental health care for children in the community," Mrs. Pahren says. "I accepted this role because I am passionate about ChildSavers and the critical work they do."
ChildSavers provides mental health and child development services, as well as trauma and resilience training for local and national organizations.
It has partnerships with a range of organizations, includ- ing Richmond Public Schools, VCU Medical Center and the Virginia Department of Health, to name a few. ChildSavers also is part of the Greater Richmond Trauma Informed Community Network and the Southside Trauma-Informed Community Network.
In response to the COVID- 19 pandemic, ChildSavers opted to remain open as a resource for clients and providers. The agency is facing what Mrs. Pahren calls a "nexus of two central issues — a dire need for both child therapy amidst a growing mental health crisis, and access to quality child care and education so parents and caregivers can return to work."
During the last fiscal year, ChildSavers' mental health services team has supported 600 children through its East End outpatient clinic, its school-based services and its crisis response program. It also has helped child care professionals in more than 500 facilities across Central and Southwest Virginia with online training, technical assistance and other resources.
While many of the services have been provided online during the pandemic, Mrs. Pahren says the need for face-to-face help for children likely will require ChildSavers to operate some in-person, but she says the agency is working to ensure it is done safely.
Mrs. Pahren's foremost goal as board president is to double the number of children the agency serves annually from 10,000 to 20,000 by the group's 100th anniversary in 2024.
"The pandemic (has) demonstrated yet again that this is an organization doing essential work in providing mental health care and child development services," Mrs. Pahren says. "I am humbled by the staff and their commitment and compassion to children, adolescents and adults in the community."
Meet a leader in the effort to protect the mental health of Virginia's children and this week's Personality, Judith "Judy" Pahren:
No. 1 volunteer position: President, ChildSavers Board of Directors.
Place of birth: Richmond. Where I live now: Richmond.
Education: Bachelor's degree, Duke University, and MBA, Vanderbilt University.
Occupation: Senior vice president and executive coach, Capital One.
Family: Husband, Dave, two daughters, two dogs and two cats.
Why ChildSavers is important in our community: For almost 100 years, we have worked on the front lines of the sort of health and racial crises our nation is struggling with today. We are the only nonprofit in Virginia that provides a blend of child development and mental health services, coupled with deep connections to the community. This unique blend helps children build the resilience they need to navigate life's critical – and often toxic – moments.
How ChildSavers is helping during COVID-19: When COVID-19 first began to impact our community, we made the decision to remain open as a resource for our clients and providers during a particularly stressful and anxious time. We never closed.
ChildSavers is currently at the nexus of two central issues – a dire need for both child therapy amidst a growing mental health crisis, and access to quality child care and education so parents and caregivers can return to work. Prior to this pandemic, one in every five children under the age of 16 experienced a mental health crisis every year. Researchers now predict that mental health with be the emerging health crisis from COVID-19.
How ChildSavers addresses the impact of trauma in a child's life: Toxic stress occurs when a child experiences four or more traumatic events. On average, our clients experience six or more traumatic events before turning 18. To combat the emotional, mental and physical effects of toxic stress, ChildSavers therapists are available to provide trauma-informed child and family therapy in the Greater Richmond area – online and in-person. We also have a team of Immediate Response therapists who that are available 24/7, 365 days per year to intervene when a crisis occurs in a child's life.
How a family pays for services: ChildSavers was established to provide mental health services to all children, regardless of a family's ability to pay. We accept multiple types of insurance, including Medicaid, and for families who are not currently insured, we work with them to help them with the enrollment process. Additionally, we rely on philanthropic support to help close the gap between the rate at which we are reimbursed and the actual cost of our work to ensure our ability to continue offering these services to those most in need.
A child in need receives direct assistance from us by: Dialing our Immediate Response Helpline to receive emergency child therapy within 30 minutes of the call being placed. Families within 30 miles of our East End loca- tion can call (804) 305-2420 for assistance over the phone or on location.
How to access ChildSavers service for a child in need: If your child is not experiencing a mental health crisis, but may be in need of ongoing therapy, visit our website to learn more about our mental health services. Parents of infants and toddlers also can connect with a ChildSavers staff member by email or phone to find a quality child care provider nearby.
How I start the day: "Be part of the solution" is written on my erasable board at work or on a sticky note while work- ing remotely. This has been part of my daily mantra for 20 years and is the mindset I always try to use.
Three words that best describe me: Authentic, problem-solver and funny.
Best late-night snack: Popcorn with salt and some melted butter.
How I unwind: Baking cakes from scratch with my daughters.
Something I love to do that most people would never imagine: Make spreadsheets for non-work activities. I even color code them.
Favorite quote: "It is the lives we encounter that make life worth living."— Guy de Maupassant.
At the top of my "to-do" list: Clean out my closet.
Best thing my parents ever taught me: "Treat people with respect and kindness." My parents lived their lives quietly helping others.
Book that influenced me the most: "The Giving Tree" by Shel Silverstein.
What I'm reading now: "Why We Sleep" by Matthew Walker.
Next goal: Well, I guess I should clean out my closet.