Energizing voters
10/8/2020, 6 p.m.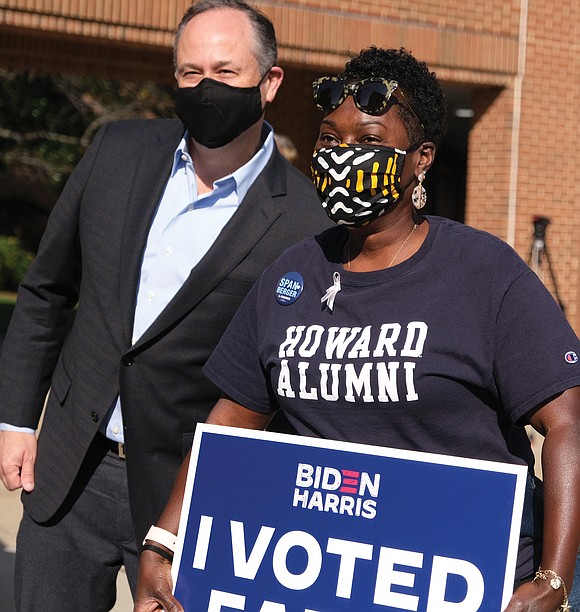 With less than 30 days until Election Day, efforts are in full swing to encourage Virginians to register and vote in the presidential election.
Above, Doug Emhoff, husband of Democratic vice presidential candidate U.S. Sen. Kamala Harris, pauses for a photo with L. Frances Brown of Henrico during a solo campaign stop last Thursday outside Henrico County's Western Government Center on Parham Road, where early voting is taking place through Oct. 31.
Ms. Brown, a supporter of Sen. Harris and Democratic presidential candidate Joe Biden, was excited because, like Sen. Harris, she is an alumnus of Howard University. Ms. Brown graduated in 1987, a year after Sen. Harris.
Outside the polling place, Mr. Emhoff talked with voters and local and state officials, including former Gov. Terry McAuliffe; state Sen. Jennifer McClellan of Richmond, who is running next year for the Democratic nomination for governor; state Sen. Ghazala Hashmi of Chesterfield; Henrico County Sheriff Alisa A. Gregory; Susan Swecker, chair of the state Democratic Party; and Marques Jones, immediate past chairman of the Henrico Democrats.
Meanwhile in Richmond, talk show host and activist Gary Flowers, below, leads the John Lewis "Good Trouble" Voter Awareness March last Friday from the Richmond Technical Center to the Richmond Voter Registrar's Office on West Laburnum Avenue, where Richmond voters can cast ballots before Election Day, Nov. 3. Chanting "Black Lives Matter," several marchers went inside to vote.