Gov. Northam alleged target of anti-government militia group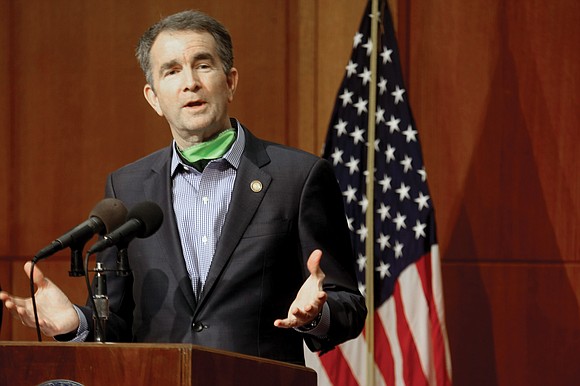 Gov. Ralph S. Northam is calling on President Trump to stop encouraging extremists after an FBI agent disclosed in a Grand Rapids, Mich., courtroom Tuesday that Virginia's chief executive had been mentioned as a potential target for abduction by a paramilitary group under arrest for conspiring to kidnap Michigan Gov. Gretchen Whitmer.
Gov. Northam made the appeal — which drew a quick rebuke from the White House — on Tuesday during his first public appearance since announcing on Sept. 25 that he and his wife tested positive for COVID- 19. The governor showed no outward adverse effects from the virus.
Gov. Northam, a 61-year- old physician and veteran of the U.S. Army Medical Corps, brushed off concern about his personal safety and instead focused on what he considers the root cause of the kidnapping plot — the president's rhetoric.
"Not everything we do is agreeable to all Virginians. But when language is used such as 'Liberate Virginia,' people find meaning on those words, and thus things happen and that's regrettable," Gov. Northam said.
He was quoting a phrase that President Trump used in at least two tweets during the spring attacking the Democratic governor for early on largely shutting down the state in an attempt to curb the spread of COVID-19 and for pushing new regulations on the sale and use of military-style weapons and handguns in Virginia.
Gov. Northam said his biggest concern is that anti-government rhetoric and attacks on elected officials are not coming from another country. "It's coming from Washington. It needs to stop."
He said he has continued work without feeling intimidated; others noted that his security detail had been beefed up.
Gov. Whitmer has expressed a similar view, along with other Democratic officeholders.
U.S. Sen. Tim Kaine in a Twitter post stated that he had warned Vice President Mike Pence in April that "divisive com- ments like Trump's 'Liberate Virginia' could cause violence. We need a president who heals — not divides."
In response, White House Press Secretary Kayleigh McEnany issued a statement claiming that President Trump "has continually condemned white supremacists and all forms of hate," conveniently forgetting that the president refused to disavow white supremacists in the recent presidential debate with Democratic candidate Joe Biden.
However, after the plot was disclosed, President Trump tweeted, "I do not tolerate ANY extreme violence," though he stopped short of a full-throated condemnation of white supremacists and hate speech.
Information about the kidnapping plot was first disclosed Oct. 8 when six people were arrested on federal charges and seven on state charges. According to the information, the participants had planned and rehearsed an attack on the Michigan State Capitol and made plans to abduct Gov. Whitmer and other officials they felt had taken control of their lives and violated their freedom through COVID-19 mandates.
The plot to kidnap Gov. Whitmer before the Nov. 3 election never went anywhere as the FBI kept close tabs through wire- taps, informants and undercover agents who had infiltrated the paramilitary group, according to officials. The arrests captured those allegedly involved before they could transform their plan into reality, according to FBI Special Agent Richard Trask's testimony.
"They discussed possible targets, taking a sitting governor, specifically the governors of Michigan and Virginia based on the lockdown orders" they had issued to deal with the pandemic, Agent Trask testified.
He said the discussion took place June 6 in Dublin, Ohio, where roughly 15 representatives of anti-government organizations were in the room.