Rally calls for end to mandatory minimum sentences
George Copeland Jr. | 4/8/2021, 6 p.m.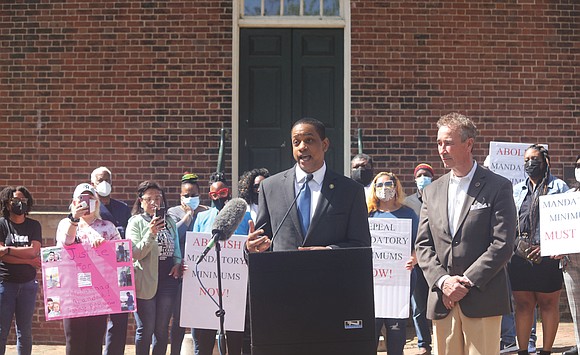 Chris Young. Kemba Smith. Quadaire "Q" Patterson. Jerry James.
These names and many others were the focus of a news conference Monday at the Bell Tower in Capitol Square, as prison justice advocates called for the end of mandatory minimum sentences.
The rally was organized by state Sen. Joseph D. "Joe" Morrissey of Richmond and Lt. Gov. Justin E. Fairfax.
Their goal: Seeing mandatory minimum sentences abolished either through a special legislative session or during next year's General Assembly session. They want to end the law that has led to disproportionate convictions of Black and brown people in Virginia.
"We have got to get Virginia out of the Stone Age," said Paulletra James, whose husband, Jerry James, is serving 38 years in the Deerfield Correctional Center in Southampton County. "We have got to stand for those families who have been without their loved one because of mandatory minimums."
Inmates have "rehabilitated themselves," she continued, "and they have done what they're supposed to do. Now it's time for them to come home."
The rally was charged with emotion and meaning, particularly for two politicians, one with a checkered history over his own past conduct, and the other who still faces unresolved allegations from the past. Some of the advocates at the rally made it clear their presence was in support of the end of mandatory minimums and separate from any support of Sen. Morrissey or Lt. Gov. Fairfax. All those present were united, however, in their desire to see mandatory minimums ended and to remove the impact and pain they've caused many.
"We're here today to say enough is enough," Sen. Morrissey said. "Mandatory minimum sentences are destroying generations of Virginians."
"At this moment in history, we have an opportunity to right things that have been wrong for so long," Lt. Gov. Fairfax said.
This ongoing issue brought out a wide range of support for banning mandatory minimums, including Advocates for Equity in Schools, RVA League for Safer Streets and Gus Smith of Henrico, whose daughter, Kemba Smith Pradia, a first-time, nonviolent offender, became a high-profile example of how the criminal justice system unequally punishes people of color.
Ms. Pradia's mandatory 24 1⁄2-year federal prison sentence was commuted in 2000 by President Bill Clinton to time served — 6 1⁄2 years. A graduate of Virginia Union University and former state organizer with the Virginia ACLU, Ms. Pradia now serves on the Virginia Parole Board.
"I urge the legislators and the voters to rethink these policies as they do not indicate a violent crime or a violent person," said Santia Nance, who spoke on behalf of her loved one, Mr. Patterson, who has been imprisoned for 13 years. "We have to reconsider the people who have been behind bars for these mandatory minimums and let our loved ones come home in this pandemic."