Mustang Club revs engines to mark classic car's 57th birthday, service award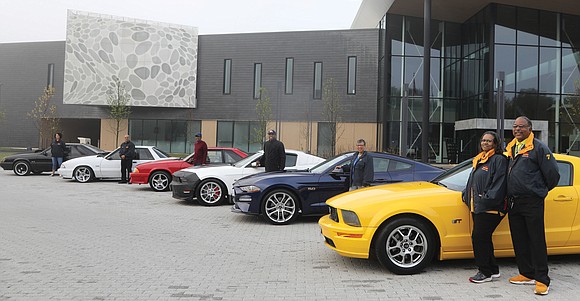 Thomas Victory and the Victory 7 Mustang Club are celebrating a birthday on April 17 — the 57th birthday of the Ford Mustang.
The pony car premiered in 1964 at the World's Fair in New York and has been a part of Mr. Victory's life for more than four decades.
"I'm excited," Mr. Victory said of the Mustang's big day that will be celebrated around the nation.
At 9 a.m. Saturday, a parade of 15 Mustangs driven by members of the Victory 7 Mustang Club and their families will gather at Meadowview Park behind Arthur Ashe Elementary School in Eastern Henrico, where they will be presented with a certificate of appreciation for their many volunteer efforts by Frank Thornton, the Fairfield District representative on the county Board of Supervisors.
The club twice has won the national Eagle One Golden Rule Award for outstanding community service by a car club in the nation.
On Saturday, the public is invited to come and see the cars, said Mr. Victory, who will be driving his "screaming yellow" 2005 Mustang GT. It is one of five
Mustangs Mr. Victory owns. He still has his first, an Acapulco blue 1968 Mustang that he bought used right out of high school in 1972.
"I worked three jobs to earn the $1,500 to buy it," he recalled. "And I still had to have a co-signer" on the loan, he laughed.
The Victory 7 Mustang Club was founded in 1985 by Mr. Victory, the club president, and several family members. The club got its name because seven of his family members owned Ford Mustangs at the time, he noted.
Since then, the club has grown to more than 100 members from Virginia, North Carolina, Washington, D.C., and Maryland. Membership automatically includes family members.
The club's mission is to promote the Ford Mustang while providing community service to others.
Since the mid-1980s, members have exhibited their Mustangs at car shows to raise money for various charities. Members also have gone to schools, churches and community events to talk about their cars and how to maintain them.
"When our volunteers take time to visit schools and other events at no charge, we impress upon students to stay in school, keep their grades up and, most importantly, no drinking and driving," Mr. Victory said.
A retired social worker and former president of the Urban League of Greater Richmond, Mr. Victory stresses the club's work in giving back to the community. The club has distributed more than 10,000 books to kindergarten through 12th-grade students in area schools and helped families with a variety of basic needs.
"In 2017, the club collected 5,000 bottles of water and sent them to Flint, Mich., to help during the water crisis," Mr. Victory said.
The Mustangs were left at home. "One of the members drove the water to Flint in a van," he said.
Every year since the club's founding, members have donated food for Thanksgiving and Christmas gifts and toys to homeless people and families served by HomeAgain, a nonprofit that provides emergency shelter and transitional housing. Mr. Victory has served on the board of the organization.
"If someone joins our club, we ask that they contribute canned food, a turkey and other items to the shelter," he said.
For information on joining the club, contact Mr. Victory at TJVictory7@gmail.com.