Early voting begins April 23 for Democratic primary
Early voting for the June 8 Democratic primary will get underway this Friday, April 23 – 45 days ahead of primary day.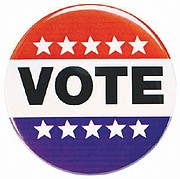 Richmond plans to operate three locations for those who want to cast their ballots early and in person in the contests to determine the Democratic nominees who will compete in the November election for statewide and local offices.
Participating city voters will be deciding on the Democratic standard bearers for governor, lieutenant governor and attorney general and for two seats in the House of Delegates. There also are city primary contests for sheriff and commonwealth's attorney.
The city Voter Registrar's Office has announced that people will be able to vote 8 a.m. to 5 p.m. Monday through Friday at the main office, 2134 W. Laburnum Ave.
Additional early voting sites will be open 8 a.m. to 5 p.m. on weekdays at of Martin Luther King Jr. Middle School, 1000 Mosby St. in the East End, and at the Hickory Hill Community Center, 3000 E. Belt Blvd. in South Side.
Voters also can request absentee mail-in ballots either online or by mail from the Richmond Voter Registar, P.O. Box 61037, Richmond, Va. 23261. The deadline to apply is Thursday, May 20.
Those with a valid Virginia DMV issued ID can apply online at www.elections.virginia.gov. You also can request a paper version of the form from the voter registrar's office or print one provided at the following link, www.elections.virginia.gov/media/castyourballot/SBE-701-703.1.pdf.
The competition is fierce for all of the offices, with 25,000 to 40,000 people in Richmond forecast to cast ballots in the early voting or on primary day.
In the primary race for the state's chief executive, former Gov. Terry R. McAuliffe is regarded as the front runner among the five candidates, including Richmond state Sen. Jennifer L. McClellan, former Prince William County Delegate Jennifer D. Carroll Foy, Prince William County Delegate Lee J. Carter and Lt. Gov. Justin E. Fairfax.
Six people are vying to replace Mr. Fairfax in the lieutenant governor post: Delegates Hala S. Ayala, Mark H. Levine and S. "Sam" Rasoul; Norfolk City Councilwoman Andria P. McClellan (no relation to Sen. McClellan); former Fairfax County NAACP President Sean A. Perryman; and nonprofit lobbyist Xavier JaMar Warren. A seventh candidate, Delegate Elizabeth R. Guzman, also of Prince William County, has dropped out of the race.
Two are vying for attorney general: Incumbent Mark R. Herring and Norfolk Delegate Jerrauld C. "Jay" Jones.
In Richmond area House races, incumbent Delegate Dawn M. Adams is facing a challenge from Kyle R. Elliott in the 68th District; incumbent Delegate Jeffrey M. Bourne is facing a challenge from Richard W. Walker in the 71st District; and incumbent Delegate Lamont Bagby is facing a challenge from John R. Dantzler II in the 74th House District.
In local races, incumbent Sheriff Antionette V. Irving is facing a challenge from former Lt. Col. William J. Burnett, who headed the day to day operations of the Richmond City Justice Center during the tenure of former Sheriff C.T. Woody Jr.
Separately, incumbent Richmond Commonwealth's Attorney Colette W. McEachin is facing a challenge from defense attorney and former assistant commonwealth's attorney Thomas P. "Tom" Barbour Jr.
For information on the primary elections, contact your local voter registrar's office:
• Richmond: (804) 646-5950 or www.richmondgov.com/registrar/
• Henrico County: (804) 501-4347 or henrico.us/registrar/
• Chesterfield County: (804) 748-1471 or www.chesterfield.gov/Registrar
• Hanover County: (804) 365-6080 or www.hanovercounty.gov/365/voting