Building a race car from the wheels up revs up learning process for RPS students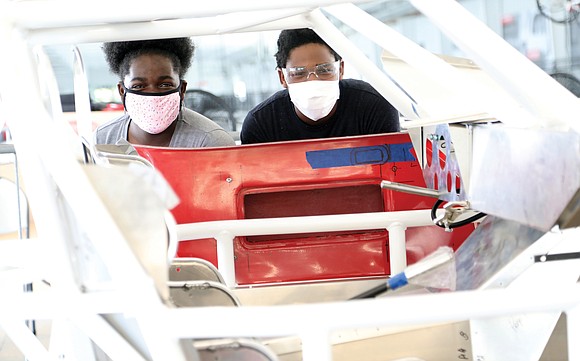 Vroom.... Vroom...Vroom.
That's the sound Armstrong High School students yearn to hear as they build the interior of a Dodge Daytona 500R STEM car in a summer program at Richmond Raceway.
For three weeks in July and August, students from after-school learning centers at Armstrong High School, Lucille Brown and River City Middle schools in Richmond and Wilder Middle School in Henrico County have risen to the challenge to help construct the vehicle designed by Factory Five Racing Inc.
The project by The Flying Classroom is designed for hands-on learning with a goal to improve student attendance and engagement while introducing them to careers in the automotive industry.
The Flying Classroom is a supplemental Science, Technology, Engineering and Math-plus curriculum started by aviator Barrington Irving, who, in 2007 at age 24, became the youngest person and first African-American to fly solo around the world. He turned down football scholarships to follow his dream of becoming an aviator. He had the plane built from the ground up.
In 2014, he started The Flying Classroom using his global aeronautic and technical experience to introduce students to STEM career possibilities.
This summer's end game proved exciting for high school and middle school students — building a sports car and — hopefully — seeing it run.
On a recent weekday, Richmond students were driven to the Laburnum Avenue raceway's NASCAR pit bay #25, right across from the oval track, where all kinds of tools were waiting—professional wrenches and pliers, screw drivers and assorted metal drills, key sets and dead blow hammers and more.
Sitting on the floor of the workshop was the red fabricated body frame of the Daytona Coupe 500 R.
The sight alone was an emotional rush for Armstrong High students and 14-year-old fraternal twins Aniyah and Xavier Rawl. The rising sophomores are interested in STEM and their reaction to the car parts was as different as their personalities.
Aniyah is gregarious, an outgoing thinker and coder, while Xavier is a quiet tinkerer who, starting at a very young age, began taking apart toys and household appliances and putting them back together, sometimes to the horror of his mother.
"I have a chance to build a car. I've never built a car before," Aniyah told the Free Press before putting on her goggles and going into the bay to work with the drill one on one with Mr. Irving.
"We don't have all of the parts, so sometimes we have to go back and redo things," she said, adding that she loves the work.
"This is exciting," Aniyah said. "Someone will drive it. It's a race car."
Seth Knight, Richmond Public Schools' manager for the project, said students are enjoying the hands-on learning.
"For the students, it is cool for them to be in a different space, in the track infield and in the bay. It's a whole different experience than driving by or seeing the bay from the stands. This experience puts the project in context for them," he said.
Xavier said he decided to participate because he was at home and bored this summer. He said he also was excited about working side by side with Mr. Irving and learning new techniques using different tools.
"I had some experience when I helped my cousin build a four-wheeler vehicle," Xavier said.
While attending Elkhardt-Thompson Middle School, he said he learned how to take computers apart and rebuild them.
"I'm breaking the computer in a nice way while discovering parts and pieces of it," he said, adding he wants to become a gaming designer.
The Flying Classroom's car building is being done in stages. All of the pieces are there, literally, on the floor ready to be assembled.
Henrico County students came for three weeks in July to kick off the project and worked on car's frame. In August, RPS students picked up the next stage, drilling door parts and putting hinges in place.
The car may not be finished by the end of August, officials said, but the students' experience will be invaluable.
The Virginia Department of Education is supporting the initiative with $250,000 from the Commonwealth's 21st Century Learning Centers' federal grant. Other partners include Virginia Commonwealth University, the Wendell Scott Foundation, Richmond Raceway, Henrico County Public Schools, the Henrico Education Foundation, NextUp RVA and Richmond Public Schools.