First wave of Afghan evacuees arrive at Fort Lee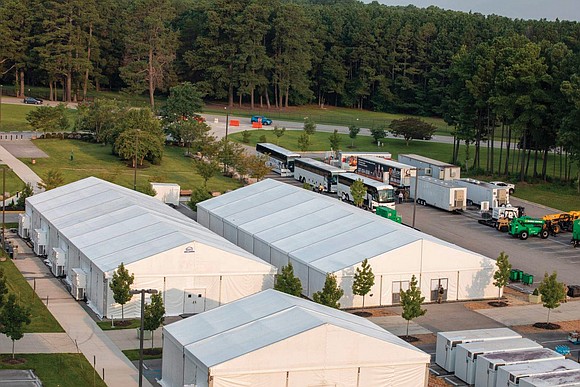 It has been nearly two weeks since the first flight evacuating Afghans who worked alongside Americans in Af- ghanistan brought more than 200 people, including scores of children and babies in arms, to resettlement in the United States, and officials at Fort Lee are calling the operation a success so far.
Efforts to welcome and screen the Afghan evacuees before they are relocated elsewhere across the nation are described in articles by Task Force Eagle posted on Fort Lee's social media site. Task Force Eagle is a joint organization consisting of service members, government civilians and contractors from across the Department of Defense that are helping with Operation Allies Refuge as the evacuee resettlement is called.
U.S. Air Force Lt. Col. Michael Rabener, deputy commander of the 321st Air Expeditionary Group, talked about his team working nearly non-stop to turn a vacant barracks on the Prince George County post into a medical screening facility.
Now that evacuees have arrived, his team is responsible for completing medical examinations that are required for special visas to be issued to the Afghans and processing the applicants.
"We see each individual over the course of two days for roughly two hours total, and complete a variety of laboratory screenings, medical exams and required vaccinations," Lt. Col. Rabener said.
Another article described how Fort Lee's Joint Culinary Center of Excellence on short notice put together food service for the evacuees that meets halal standards for preparation and dietary allowance under Islamic law.
"We had to ensure our suppliers had the appropriate food products available in sufficient quantities to supply the Afghans with three hot meals a day for the duration of their stay," said Chief Warrant Officer 3 Zachary T. Brubaker.
The team put together "grab and go" stations that operate 24 hours, allowing Afghans to get something to eat as soon as they arrive at Fort Lee, which is often in the pre-dawn hours.
Regular meal service is provided in four-hour blocks three times a day, with interpreters on hand because of the language differences.
People around the country also have asked how they can help the evacuees.
"There are many opportunities to be involved in welcoming Afghan special immigrant applicants and refugees and helping them to rebuild their lives in the U.S.," Fort Lee officials posted on Facebook. "We encourage people who are interested in assisting ... to reach out to their local refugee resettlement agency for information about how they can support them in their communities."
The evacuation flights, bringing out former interpreters and others who fear retaliation from the Taliban for having worked with American service members and civilians, highlight American uncertainty about how Afghanistan's government and military will fare after the last U.S. combat forces leave that country in the coming weeks.
Family members are accompanying the interpreters, translators and others on the flights out.
The first group of 221 Afghans in the special visa program, including 57 children and 15 babies, arrived around 2 a.m. July 30 at Dulles International Airport in Northern Virginia on a commercial carrier. They were put on buses and taken about 150 miles south to Fort Lee, where they are staying at a Holiday Inn Express on the post that normally hosts soldiers on temporary assignment at For Lee.
Those service members were relocated to other hotels — some moved 60 miles away — which was causing some consternation, according to one military publication, because some of service members didn't have cars or access to grocery stores.
The first arrivals were screened for the coronavirus and received vaccines if they wanted them, said Tracey Jacobson, the U.S. diplomat running the effort. They were expected to stay at Fort Lee, Virginia, for about seven days, completing medical exams and other final steps, Ms. Jacobson said.
Resettlement organizations will help them as they travel to communities around the United States, with some bound for family members already here, she said.
The newly arrived Afghan people will join 70,000 others who have resettled in the United States since 2008 under the special visa program.
Subsequent flights are due to bring more of the roughly 700 applicants who are farthest along in the process of getting visas, having already won approval and cleared security screening.
In late July, Congress overwhelmingly approved legislation that would allow an additional 8,000 visas and $500 million in funding for the Afghan visa program.
President Biden announced earlier this year that the United States would withdraw all its troops from Afghanistan by Sept. 11, honoring a withdrawal agreement struck by former President Trump. He later said the U.S. military operation would end on Aug. 31, calling it "overdue." Some administration officials have expressed surprise at the extent and speed of Taliban gains of territory in the countryside since then.
President Biden called the first flight of evacuees "an important milestone as we continue to fulfill our promise to the thousands of Afghan nationals who served shoulder-to-shoulder with American troops and diplomats over the last 20 years in Afghanistan." He said he wanted to honor the military veterans, diplomats and others in the U.S. who have advocated for the Afghans.
"Most of all," the president said in a statement, "I want to thank these brave Afghans for standing with the United States, and today, I am proud to say to them: 'Welcome home.' "