VCU Rams have tough time in Battle 4 Atlantis
Fred Jeter | 12/3/2021, 11:25 a.m.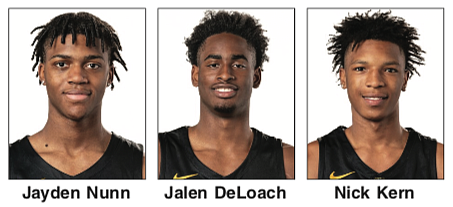 A rising star freshman and a stifling defense are atop the reasons why Virginia Commonwealth University feels the wind as its back after three tense struggles in the Bahamas.
The Bahamas event was called Battle 4 Atlantis, but might have been dubbed "VCU versus NCAA champs."
On Nov. 24 on Paradise Island, the Rams defeated Syracuse University 67-55. The Orange were the 2003 NCAA champs.
Then the Rams lost on Nov. 25 to defending NCAA champion Baylor University 69-61.
The Rams' Nov. 26 finale was a gut-wrenching 70-63 overtime loss to four-time national NCAA champ University of Connecticut (2014, 2011, 2004 and 1999).
VCU Coach Mike Rhoades' relentless defense was so impressive that some are jokingly changing the school letters from VCU to DCU, with the "D" for "defense."
The Rams defense never backed down from three of the sport's marquee brand names.
UConn shot 33.3 percent; Baylor, 40.4 percent; and Syracuse, 29 percent. In the three games, VCU forced 56 turnovers, including 22 against UConn.
Drawing attention individually was 6-foot-4 VCU freshman guard Jayden Nunn. Against UConn, Nunn led the Rams in scor- ing (21 points), rebounds (eight) and steals (four). Considering the level of competition, it ranks with the top games ever by a Rams freshman.
For the season, Nunn averages 9.3 points, second on the team to Vince Williams'11.3 points, and leads with 15 steals.
Nunn is one of three freshman contributors, joining 6-foot-9 Jalen DeLoach from Savannah, Ga., and 6-foot-6 Nick Kern from St. Louis.
Originally from Flint, Mich., Nunn became a four-star recruit at a private school in Glendale, Ariz. He first committed to Iowa State University before opting for VCU.
The Rams are likely favorites in each of their next six games—five at home—prior to the Atlantic 10 opener against George Mason University on Dec. 30.
◆
The Rams (3-4 overall) return to the Siegel Center on Saturday, Dec. 4, to face Campbell University from Buies Creek, N.C.
The Camels made Duke University nervous in Durham, N.C., before losing 67-55 on Nov. 13. Then Campbell was "umm-umm good" in defeating Marshall University 67- 65 on Nov. 18 in Huntington, W.Va.
VCU and Campbell first met in 1970, with the Rams winning 79-78 in what was the second game ever played at the then- new Franklin Street Gymnasium.
The Campbell standout that night was Willie Maull, who went on to become a prominent CIAA and NCAA hoops referee.