CoStar to expand in Richmond, building a new riverfront office tower and creating up to 3,000 new jobs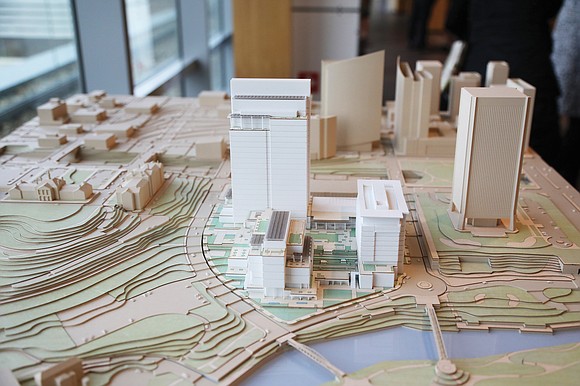 Up to 3,000 new jobs and a new 26-story riverfront office tower that will rank as the tallest office building in Virginia.
That's how one of Richmond's largest employers plans to grow its presence in the state's capital city.
The company is real estate data giant CoStar, which already has invested millions and built a workforce of 1,000 people since arriving in Richmond five years ago.
That is just the start, said Andrew C. Florance, co-founder, president and chief executive officer of CoStar, the Washington-based company that he launched as a student at Princeton University and has built into a dominant force in real estate transactions in the United States and multiple countries overseas.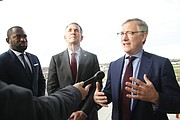 In what Mayor Levar M. Stoney called "a game-changer," Mr. Florance announced Dec. 17 that Richmond will become the hub of the data company's global expansion.
Joining him for the announcement were Gov. Ralph S. Northam, state Secretary of Trade and Commerce Brian Ball and a host of other officials and interested parties.
Mr. Florance said the company projects adding at least 2,000 and probably 3,000 additional employees after the new Richmond building is finished in 2024.
The new office building will sit at 5th and Tredegar streets, just across from Brown's Island, and will be part of a complex that will include a smaller six-story building and the company's current nine-story home in the city at 501 S. 5th St.
The building is to cost an estimated $460 million and will rise 510 feet, making it the tallest office building in Virginia. It also will be among the "greenest," with its outer skin made of advanced solar panels to generate much of its electricity.
The company has spent $140 million in the past 12 months to buy 4 acres of the 5th Street site and lease space in two other buildings to relocate and add employees while construction takes place.
Mr. Florance said that once completed, the Richmond center would be the largest location for CoStar, which currently spreads is operations over 100 offices.
Gov. Northam praised CoStar for deciding to expand in Richmond. In his proposed 2022-24 budget, the governor included a request for $15 million to assist the company with infrastructure and other improvements that will be needed.
The governor called CoStar's plan emblematic of the record level of private investment that has taken place in Virginia since he took office in January 2018. He noted that private companies have poured $80 billion into expanding or building new space in creating 100,000 new jobs in Virginia during the past four years.
CoStar's expansion is a balm for Richmond, which has been smarting after voters in November rejected a proposed casino within the city limits.
CoStar already is a giant in providing information and marketing applications for real estate, which Mr. Florance describes as the largest storehouse of wealth in the world at $180 trillion.
Along with mining real estate data, CoStar has become a key player for the marketing and sale of commercial real estate through its ownership of Loopnet.
CoStar also dominates online information for apartment leasing through Apartments. com, owns a top online site for marketing rural property and is looking to become the dominant marketing and information source for residential real estate following its purchase of Homes.com.
Mr. Florance said CoStar also has a significant presence in Europe and is focused on expanding its operations in Central and South America and into the Near and Far East, with Richmond becoming the operation center for that growth.