Gerald G. Poindexter, a Surry County county attorney and prosecutor, dies at 80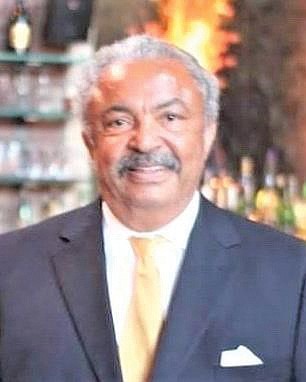 Gerald Glenn Poindexter, a legal institution in Surry County where he served 23 years as county attorney and another 20 years as commonwealth's attorney, has died.
Focused on pushing civil rights and creating fairness in the justice system, Mr. Poindexter gained the most attention for his role in the 2007
and 2008 investigation and prosecution of former Atlanta Falcons quarterback Michael Vick during the uproar over his ownership of a dog-fighting operation.
Mr. Poindexter, who was suffering from dementia, died Friday, Dec. 17, 2021, according to his family. He was 80.
Family and friends will celebrate his life during a funeral service 11 a.m. Thursday, Dec. 23, at Lebanon Baptist Church.
"He was a legal role model," said his son, Christopher R. Poindexter, a lawyer in Brook- lyn, N.Y. "He was a mentor to young people and sought to end the prison pipeline. While most prosecutors boast about their convictions, he was always proudest of the work he did to keep people out of the criminal justice system."
A native of Louisa County. Mr. Poindexter began his legal career after graduating from Virginia Union University, studying for a master's in biology at Howard University and then earning his law degree from the University of Michigan in 1970.
He cut his legal teeth serving as a Legal Aid attorney in Roanoke. A year later, he and his new attorney wife, Gammiel Gray Poindexter, came to Richmond to became partners in the area's first integrated law firm that included Jeroyd X. Greene, who later changed his name to Sa'ad El-Amin, and Ralph W. Buxton, who is white.
The firm represented Black police officers and firefighters in separate cases to end the racial bigotry that stunted their careers, Mr. El-Amin said. The firm also took on other civil rights causes.
"Gerald was the most socially conscious and sociable person I ever met," Mr. El-Amin said. "We took on very significant cases and made a difference."
One of the clients the firm represented was Surry County, which reached out after a majority-Black government ushered in change. In 1972, Mr. Poindexter, on behalf of the firm, became the part-time county attorney, beginning a relationship with the county that only grew.
The firm broke up after Mr. El-Amin went to Chicago to become general counsel for the Nation of Islam, and the Poindexters set up their own firm while also keeping the Surry contract and ultimately relocating to the county.
As the first Black county attorney for any Virginia locality, Mr. Poindexter was instrumental in the drafting and passage of the Surry County Human Rights Ordinance enacted in 1973. The first of its kind in the South, the law made it a misdemeanor to discriminate against a person based on race, sex or religion.
In 1975, Mrs. Poindexter was elected Surry commonwealth's attorney, the first woman and Black person to hold that post in Virginia. She would serve in the part-time post until 1995, when the General Assembly elected her as the first Black person and female General District Court judge in Surry and other localities in the 6th Judicial Circuit. She retired from the bench in 2007.
When his wife went on the bench, Mr. Poindexter successfully ran and was elected to replace her as Surry commonwealth's attorney. He also maintained the law firm. He was re-elected to four more terms as county prosecutor, ending his tenure in 2015 when he did not seek a sixth term.
The Vick case erupted into national attention after Surry authorities investigated a property the NFL star owned and found dozens of injured and overly aggressive pit bulls in the Bad Newz Kennels with which Mr. Vick was associated. Mr. Vick and three others were convicted in a federal case and later pleaded guilty in the separate felony case that Mr. Poindexter brought on state charges.
The Surry prosecutor faced sharp criticism from animal advocates who claimed he moved too slowly in the prosecution, but he won re-election when county voters supported him over a challenger.
His son said that as a prosecutor and in his private practice, his father brought compassion and empathy to the work.
Mr. Poindexter was a member of the both the Old Dominion and National Bar associations and a former member of the Board of Visitors of John Tyler Community College.
A voracious reader and music lover, Mr. Poindexter also was a member of Omega Psi Phi Fraternity, the Richmond Guardsmen, the Epsilon Delta Boulé of Sigma Pi Phi Fraternity and the Progressive Men's Club of Surry County.
In addition to his wife and his son, Mr. Poindexter is survived by two other sons, John L. Poindexter, a lawyer in Washington, D.C., and Eric Fitzgerald Daniel, a Hollywood screenwriter; a sister, Juanita Walker; and eight grandchildren.