Personality: Amanda Loraine Lynch
Spotlight on board president of Brown Ballerinas for Change
12/23/2021, 6 p.m.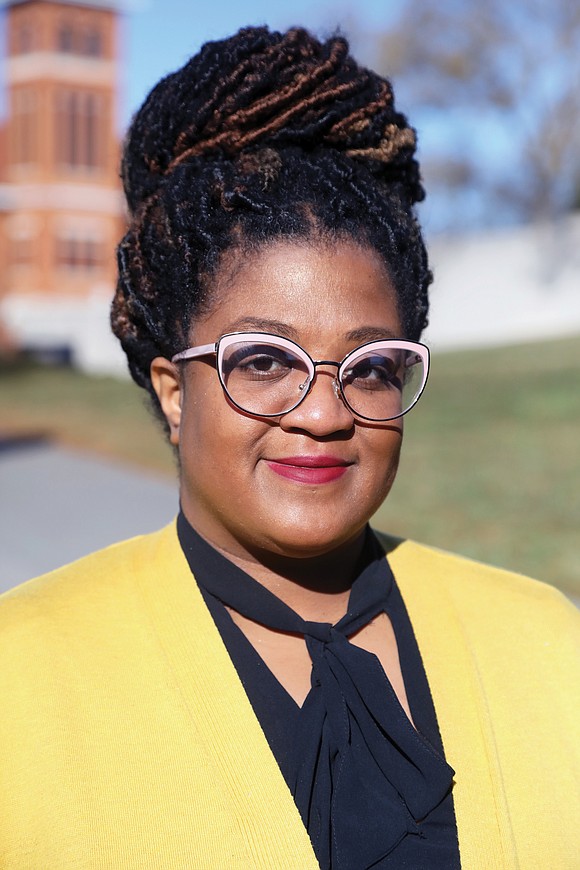 Amanda Loraine Lynch is helping bring change to the stage and the streets through ballet.
The May 2020 murder of George Floyd by Minneapolis Police led her to help bolster the efforts started by her daughter, Ava Holloway, and three other teen ballerinas, Kennedy George, Sophia Chambliss and Shania Gordon to address racial and social inequalities by creating Brown Ballerinas for Change.
Ms. Lynch serves as board president of the organization that is committed to using ballet to promote activism, social justice and increase diversity in the arts. The organization provides annual scholarships, a mentor network and community programs to empower young dancers.
"The summer of 2020 provided a refreshing opportunity to explore the intersectionality between racial equity and the dance community here in the former capital of the Confederacy," Ms. Lynch said, "and to reclaim a space, both ballet and Monument Avenue, that was once rooted in exclusionary practices."
"We are living proof that art and dance are also activism and our Blackness and ballet can and do co-exist."
When news spread in June 2020 that Gov. Ralph S. Northam ordered the iconic statue of Confederate Gen. Robert E. Lee to be removed from Monument Avenue, people celebrated at the monument's base, which had been tagged with all types of graffiti calling for racial justice and an end to police brutality. Ava and Kennedy, who were longtime dance students at the Central Virginia Dance Academy, donned their ballet skirts and pointe shoes and danced at the monument. A photo of the two of them captured by a news photographer went viral, with celebrities posting and retweeting it, including prima ballerina Misty Copeland, the hip-hop group Salt-N-Pepa and actress Reese Witherspoon.
The photo became a powerful symbol of strength and equal representation in all fields, including dance.
BBFC dancers will be performing Thursday, Dec. 30, at the annual Capital City Kwanzaa Festival at the Greater Richmond Convention Center. The organization also is planning to host a screening of the documentary "Black Ballerina" during Black History Month with an accompanying panel discussion.
As board president, Ms. Lynch's role is both a supportive and instructive. She strives to keep the BBFC financially healthy and sustainable through networking for grants and fundraising, and ensure its mission and programs are supported through effective action.
"I always want to ensure that I am empowering our dancers, staff and the board from a positive, compassionate and healthy place," Ms. Lynch says. "Our CEOs and founders are teenagers, so I want to honor their lived experiences and talents, while encouraging them to remain humble, self-reflective, teachable, and committed to servant-leadership."
Meet a change agent, social justice advocate and this week's Personality, Amanda Loraine Lynch:
Volunteer position: President of the Board of Directors, Brown Ballerinas for Change.
Occupation: Trauma-informed training and prevention specialist with Greater Richmond SCAN; children's book author; owner of Rethinking Resiliency; and a mindfulness teacher at The Innerwork Center.
Date and place of birth: June 10 in Richmond.
Where I live now: Richmond, but I was raised in Glen Allen.
Education: Henrico High School; bachelor's and master's degrees, Mary Baldwin College; and post-baccalaureate in autism spectrum disorders from Virginia Commonwealth University.
Family: Husband, Marcus, and children, Amani, Ava, Violet, Hazel and Primrose. I would be remiss without also mentioning my parents, Sandra Peterson, Carl Davis (Carolyn Edghill) and Bernard Peterson.
Brown Ballerinas for Change is: A dancer-led organization whose purpose is to use ballet to promote activism, social justice and to increase diversity in the arts by providing annual scholarships, a mentor network and community programs to empower young dancers. BBFC believes that every Brown Ballerina is a changemaker, promoting ballet through advocacy, social justice and by working to diversify the performing arts, with a focus on classical ballet.
BBFC's Ambassador Program is: For girls ages 7 to 18 who might not otherwise be able to participate in ballet due to a variety of reasons (cost, proximity, etc.). We provide weekly tuition-free dance classes, workshops and opportunities to engage in public policy and advocacy about social justice issues. To date, we have 16 Ambassadors.
How Misty Copeland inspires BBFC: Misty Copeland has spoken very openly about her struggles with simply having access as a child to ballet. Ms. Copeland was the first Black prima ballerina that many of our girls were exposed to. Her story inspires them to believe that the sky's the limit and it's possible to overcome any obstacle. When the girls first went viral last year, she retweeted one of their photographs that had been shared by Chloe Angyal, contributing editor at Marie Claire. What an amazing way for our girls to be acknowledged and recognized for their work by such a ballet legend.
The power of visual representation and BBFC: Having representation at every level of a career (from student to teacher to professional performer) is integral in believing you can do it.
Leading obstacles encountered by Black and Brown ballet dancers: "Fitting in" in a corps de ballet (skin color, hair, body, etc.) sometimes doesn't feel possible. Of course when everyone in the room is white, Black dancers stand out and that can feel isolating. We are hoping to bridge this gap by creating a network of support for Black and Brown youth ballerinas in our area through our ambassador program. It's sometimes a challenge for others to understand that Black and Brown dancers deserve to have a seat at the table, in the boardroom and a place on the stage simply because they exist and are here for the work.
How to join or support Brown Ballerinas for Change: Our website is www.brownballerinasforchange.com. Information about joining and giving can be found there.
A perfect day for me: One that is unstructured, where I can spend time laughing with my son, binge watching Netflix with my oldest daughter or taking my younger girls to the park. We rarely have time away from the dance studio, so when we do have time to slow down, I cherish those moments.
What I am learning about myself during the pandemic: I am learning to give myself grace. I don't always focus on the moment in front of me because I'm always looking at the next step. I am in constant planning mode. I'm learning to be more flexible though and finding new ways to live and breathe in the moment.
Quote that inspires me: "Heavy is the head that wears the crown." – William Shakespeare.
Friends describe me as: A quiet storm.
At the top of my "to-do" list: Finding balance, taking breaks and setting boundaries. I work too much.
Best late-night snack: Brie, fruit and crackers.
Best thing my parents ever taught me: To always be on the right side of history, even when it's not popular, no matter the cost.
Person who influenced me the most: I revered my grandparents, the Rev. John E. Gordon Sr., Violet Gordon and Beulah Davis. They taught me to be community-minded, to trust God's calling on my life and to give myself grace when I need to.
Book that influenced me the most: "Their Eyes Were Watching God" by Zora Neale Hurston and "My Ancestors' Wildest Dreams" by me and my oldest daughter, Ava Holloway.
What I'm reading now: I'm currently re-reading "The House on Mango Street" by Sandra Cisneros.
Next goal: To slow down and to learn to enjoy each moment as it comes.