Archbishop Desmond Tutu, lion of anti-apartheid movement, dies at 90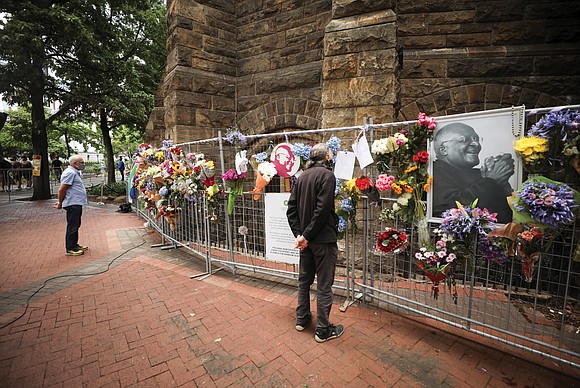 JOHANNESBURG - Mourners held a candlelight prayer ceremony outside the Soweto home of the late Archbishop Desmond Tutu on Wednesday, weeping over the memory not only of a world-renowned lion of the anti-apartheid movement but of a kind and loyal neighbor.
Archbishop Tutu, who died at 90 on Sunday, Dec. 26, 2021, worked passionately, tirelessly and non-violently to tear down apartheid — South Africa's brutal, decades-long regime of oppression against its Black majority that only ended in 1994.
The buoyant, blunt-spoken clergyman used his pulpit as the first Black bishop of Johannesburg and later as the Anglican archbishop of Cape Town, as well as frequent public demonstrations, to galvanize public opinion against racial inequity, both at home and globally.
In addition to being an uncompromising foe of apartheid, he was a modern-day activist for racial justice and LGBT rights. Standing only 5-foot-5, Archbishop Tutu became a towering figure in his nation's history, comparable to fellow Nobel laureate Nelson Mandela, a prisoner during white rule who became South Africa's first Black president. Archbishop Tutu and the late President Mandela shared a commitment to building a better, more equal South Africa.
Upon becoming president in 1994, President Mandela appointed Archbishop Tutu to be chairman of the country's Truth and Reconciliation Commission, which uncovered the abuses of apartheid.
The two lived for a while on the same township street, where residents take pride in being the only people in the world to grow up with two Nobel Peace Prize winners for neighbors.
"Come December time, Father Tutu and Mom Tutu used to bring groceries for all the grannies here. He used to look after the elders. So losing someone like him is painful. We're filled with tears," Nkele Tshakela told mourners standing alongside the street.
Usually abuzz with tourists drawn to its vibrant culture and history as a battleground during white minority rule, Vilakazi Street had a somber mood as mourners laid flowers outside Archbishop Tutu's home and sang gospel hymns. Bishops and deans of the Anglican Church and the mayor of Johannesburg lit candles. Condolences poured in from South Africans, world leaders and people around the globe mourning the death of the man viewed as South Africa's moral conscience.
Johannesburg Mayor Mpho Phalatse said Archbishop Tutu "lived a life of servanthood and did not seek personal gain."
Former U.S. President Obama hailed Bishop Tutu as "a moral compass for me and so many others. A universal spirit, Archbishop Tutu was grounded in the struggle for liberation and justice in his own country, but also concerned with injustice everywhere. He never lost his impish sense of humor and willingness to find humanity in his adversaries."
ArchbishopTutu's life was "entirely dedicated to serving his brothers and sisters for the greater common good. He was a true humanitarian" said the Dalai Lama, Tibet's exiled spiritual leader and ArchbishopTutu's friend.
Former Virginia Gov. L. Douglas Wilder, the first elected Black governor in the United States, said in his blog, Wilder Visions, that news of Archbishop Tutu's death filled him with mixed emotions. The two, he wrote, shared "mutual experiences" and he hosted Archbishop Tutu and his daughter at the Governor's Mansion in Richmond during his tenure as governor in the early 1990s.
"He and I are the same age, and being of color, knew denial and segregation first hand," Gov. Wilder wrote.
"After being together at an event, I invited him to visit me at the state Capitol. He and his daughter spent several days in the mansion and we had deep and penetrating discussions on racism and its effects.
"I spent time with him at his lovely residence in Cape Town, South Africa, continuing our recipes for building a consensus for demanding what is right and criticizing what is wrong. He always presented what he thought was right and condemned what was wrong. He was indiscriminate in his criticism; presidents, prime ministers, fellow Africans and religious leaders—all who participated in human denial—felt the sting of his rebuke.
"The world has lost a great leader; I have lost a friend."
Archbishop Tutu is survived by his wife of 66 years, Leah, and their four children.
His funeral will be held on Saturday, Jan. 1, at Cape Town's St. George's Cathedral, where he led marches and campaigns to end apartheid from the front steps.
Cape Town hosted a tribute at its city hall on Wednesday evening, attended by members of Archbishop Tutu's family, his foundation and various faiths and tribes.
Archbishop Tutu will be cremated after Saturday's funeral and his ashes interred beneath the floor of St. George's, according to the cathedral's dean, the Rev. Michael Weeder.