Can Coach Deion Sanders help restore the HBCU-to-NFL pipeline?
Fred Jeter | 12/30/2021, 6 p.m.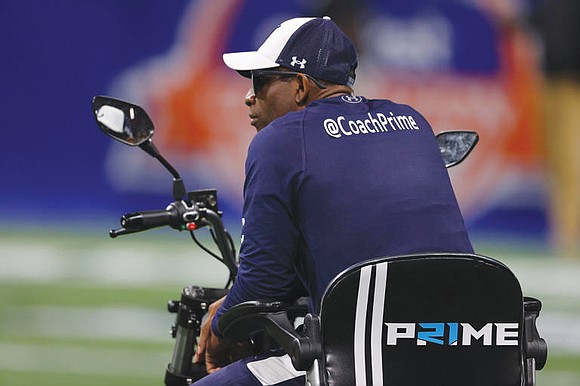 An impressive total of 33 HBCU alumni have been inducted into the NFL Hall of Fame. But will there ever be another? Or even another first round draft choice? Or All-Pro?
Long ago, there was a fertile pipeline from HBCUs to the NFL. But it began clogging in the 1970s, when, to the delight of football coaches at majority- white colleges, the traditional Division I programs began widening their recruiting nets and entrance doors.
Social feelings changed for the better, but at the expense of HBCU football talent. Jackson State University Coach Deion Sanders, aka "Coach Prime," hopes to restore that HBCU-NFL conduit. And there are positive signs he will, even though he has had to operate in a motorized scooter following foot surgery.
Eyebrows shot through the roof earlier this month when Coach Sanders signed cornerback Travis Hunter, the consensus No. 1 high school recruit in the nation.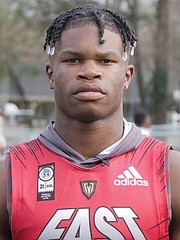 Hunter, from Collins Hill, Ga., chose Jackson State over the likes of Florida State — Coach Sanders' alma mater — Clemson and Georgia.
"I am making this decision to light the way for others to follow," Hunter told the media at a news conference. "It's to help make it easier for the next guy to realize HBCUs are all they want and more."
Hunter's taking a "build it and they will come" approach, and he's not alone. Coach Sanders also landed KaTron Evans from Baltimore, among the nation's most coveted defensive linemen. Evans' suitors included Ala- bama, Auburn and just about every other big-name program.
There are others who have chosen Jackson State over offers from the Power Five Conferences. Coach Sanders' first recruiting class a year ago, which included his son, quarterback Shedeur Sanders, was rated 55th overall among all schools, and first among HBCUs.
This year's bumper crop of 17 players figures to rate considerably higher, even near the top tier schools in the Power Fives.
So what lies ahead for Jackson State and other HBCUs that have been on the outside looking in at top prospects for decades?
It would be a long and bumpy ride to quality for the FBS College Football Playoff or major bowls such as the Cotton, Rose, Sugar, Fiesta and Orange bowls. To begin the process,
Jackson State would need to explore the idea of bolting its conference, the FCS affiliated SWAC, and join an FBS conference, possibly the Sun Belt Conference.
That would sever old ties. Jackson State has been a SWAC member since 1958.
Upward movement isn't impossible. In Virginia alone, Liberty, Old Dominion and, now, James Madison universities have gone from the FCS to the FBS.
On the HBCU level, Hampton and North Carolina A&T State universities left the FCS/HBCU/MEAC for the FCS Big South Conference in more of a lateral move.
Would Jackson State be willing to step up in class, and financial commitment, with no long-term guarantees? If so, it's unlikely the rest of the 14-school SWAC would follow.
And if Coach Sanders' recruiting magic is the key to upward mobility, how long can the school count on him sticking around? Just last month, he interviewed for a head coaching job at Texas Christian University in the Big 12.
It will be intriguing to see how this plays out. Will Hunter, for example, be content playing for the SWAC title and a berth in the Celebration Bowl as opposed to a shot at the consensus national title?
The SWAC and MEAC champions are committed to the Celebration Bowl and do not participate in the FCS play-offs. So the Celebration Bowl is as good as it gets—for now—for HBCUs.
That said, will Hunter be OK with Prairie View A&M and Grambling State universities being the bold-letter games on the schedule instead of the University of Texas and Louisiana State University?
The evolving, more liberal NCAA transfer portal rules make it so easy to leave one school and join another with no penalty.
Recent history doesn't look good for HBCUs. There were no HBCU players taken in last year's NFL draft, and only one in 2020. Is Hunter OK with that?
The 33 NFL Hall of Famers from HBCUs mostly came along before 1980. All-time sack leader Michael Strahan, 50, is the youngest. The New York Giants great retired in 2007 and is now a media personality on ABC's "Good Morning America."
The Kansas City Chiefs won the 1969 Super Bowl with more than 20 HBCU alumni on the Chiefs' roster. Now, teams average only about one HBCU player per squad.
Could the talent-laden HBCU squads of the 1960s and 1970s, playing in what amounted to Division II, have competed with the majority-white Division I powers of the era? Since they never did, we'll never know.
For sure, Coach Sanders, arguably the most exciting cornerback in NFL annals, has been a bonanza for Jackson State and for HBCU exposure in general.
But regarding recruitment of elite prospects, can he really bring the 1960s and 1970s into the 2020s?
If so, that certainly would be a story deserving of "Prime Time" coverage.