Personality: Martha Jones-Carter
Spotlight on co-founder of Kuumba Afrikan American Quilters Guild of Richmond
12/30/2021, 6 p.m.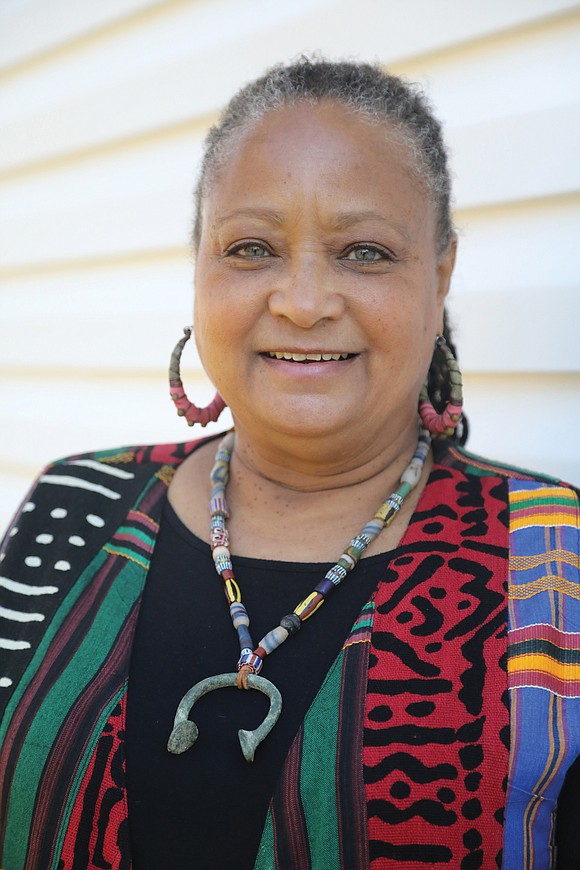 If art tells a story, then Martha Jones-Carter has helped weave a multitude of personal and community-built narratives over the course of her life.
Ms. Jones-Carter is co-founder of the Kuumba Afrikan American Quilters Guild of Richmond, which was founded nearly a decade ago to promote appreciation and interest in traditional, contemporary and new art forms of quilting and other textile arts.
The group's motto: "Connecting Creative Spirits Through Fabric." As Ms. Jones-Carter says, the guild is "for anyone who enjoys quilting or wants to learn to quilt, sharing ideas, hands-on workshops and gathering with a collective of like-minded spirits who are creative, inspirational and supportive."
"I'm proud of what some of the quilters have achieved and where they started from," Ms. Jones-Carter says. "I think we have achieved a lot."
Ms. Jones-Carter grew up in Washington Park on Richmond's North Side and learned sewing and quilt-making from her mother and grandmother, but really became more engaged with quilting about 18 years ago.
"I have always been creative in many ways," says Ms. Jones-Carter, who paints, sculpts and makes jewelry, pine needle baskets, stained glass and porcelain dolls and designs cloth dolls.
"When it comes to creating something, I could make just about anything."
After taking a few quilting classes, Ms. Jones-Carter began to teach the techniques to others, including children, and joined quilting groups before eventually forming the Kuumba Quilters Guild with three like-minded women.
As co-founder, Ms. Jones-Carter aids the guild's efforts to build a positive community spirit through personal creativity and expressive growth, encourage African-American artistic visions and promote their work in quilting and textiles, and preserve the tradition, culture and history of quilting.
"We love to get together to have fun socializing and eating good home-cooked foods, but mostly for the love of creating with fabric," Ms. Jones-Carter says.
Currently, the guild has 18 members who are making their mark on the area art scene. Their work has been featured in exhibitions around Richmond and Petersburg, and also is incorporated into a Legacy Quilt hanging at the Hampton Roads Convention Center commemorating 400 years since the landing of the first Africans in America at what is now Fort Monroe in Hampton.
The guild also had an exhibit of quilts at the Black History Museum and Cultural Center of Virginia in Jackson Ward with the theme, "Stop the Pain," based on the many challenges and social justice issues of 2020.
"Today quilts are not made just for covering the bed," Ms. Jones-Carter says. "It has become a form of art."
This part of the Kuumba Afrikan American Quilters Guild's work ties into the larger legacy of African-American quilting, from the Africans that continued weaving and applique techniques with when they were brought to America during the Middle Passage, to the use of quilts as a tool of communication among the enslaved and those seeking freedom along the Underground Railroad.
"To remember our ancestors' techniques, we are passing down the history of quilting to preserve the art form and the importance of African-American quilting to future generations," Ms. Jones-Carter says.
Meet an artist who blends art, history and community and this week's Personality, Martha Jones-Carter:
No. 1 volunteer position: Co-founder, Kuumba Afrikan American Quilters Guild of Richmond.
Occupation: Recreation program specialist for seniors with Richmond Department of Parks, Recreation and Community Facilities' special services.
Date and place of birth: Jan. 24 in Richmond, along with my identical twin, Marian Jones.
Where I live now: South Side.
Education: Mary M. Scott Elementary in Washington Park; John Marshall High School; and bachelor's in graphic design, Norfolk State University.
Family: Husband of 20 years, Henry Carter. We have no children, but we both come from large families with lots of nieces and nephews.
Guild's goals: Kuumba is Swahili for "creativity." It is one of the seven principles of Kwanzaa. The guild's goals are to build a positive community spirit through the process of personal creativity and expressive growth with the use of fabric and mix media art; to encourage the artistic visions and promote the work and accomplishments of African-American quilters and textile artists; and to focus on preserving the tradition, culture and history of quilting and while providing educational opportunities.
Co-founders of the guild: Naima Wares-Akers, Esther Ivory, Gloria Lewis and Martha Jones-Carter.
Quilting is: Quilting is the process of hand sewing three layers of fabric together using a needle and thread or a sewing machine. The layers are the fabric for the top of the quilt, the middle is the batting for insulation and the fabric backing for the bottom of quilt. Quilting is the stitching patterns created to hold all the layers together.
Quilting and COVID-19: We decided to create quilts with the theme "Stop the Pain" that would represent the many challenges we faced in 2020 dealing with the police brutality against African-Americans, the protests for racial justice and social change, and being uncomfortable with the leadership of our president at the time. We had an exhibit at the Black History Museum and Cultural Center of Virginia in Jackson Ward from Oct. 1 to Dec. 18 that was curated by Mary Lauderdale.
Intergenerational tradition and quilting: The guild has had programs during their exhibits that connected children by having hands-on quilt-making activities that would teach them about the history of African-American quilt-making while creating a quilt block. The guild also crafted and donated no-sew blankets to the Baptist Children's Home in Petersburg; crafted and donated a quilt to the Virginia Breast Cancer Foundation of Hampton Roads for a silent auction, which raised $850 for the foundation; cut and compiled shoes for parts to be sent to Africa for assembly, which would generate gainful employment and income for independent entrepreneurs; and we made hundreds of face masks for VCU Health employees during the start of the pandemic.
Steps of learning to quilt: The first step is to purchase the ma- terials needed, such as a sewing machine, thread, ruler, cutting mat, rotary cutter and fabric. Take a beginner quilting class to learn the basic techniques.
A perfect day: Relaxing with my husband, having a great meal, being on the computer and being in my space of creativity.
What I am learning about myself during the pandemic: I look at life differently now because of COVID-19 by being patient, doing what will be healthy and safe for me and taking one day at a time and being happy with where I am now.
Something I love to do that most people would never imagine: I love to collect antique furniture and glassware. I have a shop at Cold Harbor Antiques selling my items. I enjoy repairing and painting the furniture and researching the date of the glassware.
My friends describe me as: A busy person who is talented, patient, friendly and caring and who may be hard to reach by phone and can never be on time.
At the top of my "to-do" list: To complete some of the quilt projects I have already started.
Best late-night snack: Ice cream and all the other things I shouldn't eat late at night.
Best thing my parents ever taught me: Respect people and to love who I am. My father was self-employed and I learned from him how to be confident in having my own business.
Person who influenced me the most: My twin sister Marian because we both have interest in the same things. She is also a creative artist, makes quilts and also has an antique shop.
What I'm reading now: Quilting Art magazine for inspiration and to learn about any new quilting techniques I may like to try.
Next goal: To continue to gather as a group, be creative, lift each other's spirits, have exhibits, but mostly have fun quilting.