Award-winning costume designer Ruth E. Carter's star to shine on Hollywood Walk of Fame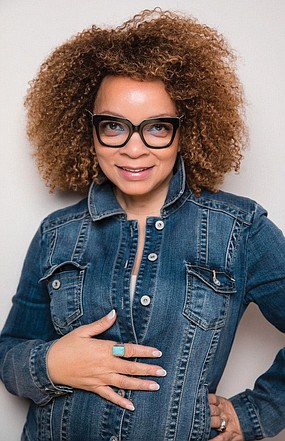 A dream of most people in the movie business is to get a coveted star on the Hollywood Walk of Fame.
Ruth E. Carter is getting hers this week.
The Hampton University alumna who won the Academy Award for the costumes she designed for the 2018 block- buster film "Black Panther will be honored with a star during a virtual ceremony 2:30 p.m. Thursday, Feb. 25.
To punctuate the importance of the moment, Oprah Winfrey and Eddie Murphy will be guest speakers during the ceremony as Ms. Carter's star is placed at 6800 Hollywood Blvd.
The 60-year-old costume designer was the first African- American to win an Oscar in the costume design category. She also is just the second costume designer honored with a star on the Hollywood Walk of Fame. The first was the late Edith Head in 1960.
Ms. Carter's special award, which was first announced in June 2019, will be cemented – literally – for eternity at the end of Black History Month.
A native of Springfield, Mass., graduated from Hamp- ton University in 1982, earning a bachelor's in theatre arts. She initially pursued acting, but her work in the wardrobe department during HU productions led her to costume design.
"We could not be prouder of her accomplishments and success," Hampton President William R. Harvey said in an announcement earlier this week to alumni and others. "Hampton University is honored to be part of Ruth's journey. Her star continues to be the brightest in Hollywood."
During her nearly 30-year career in the film industry, Ms. Carter had been nominated for an Academy Award twice before for best costume design for Spike Lee's "Malcolm X" in 1993 and Steven Spielberg's "Amistad" in 1998.
Ms. Carter also is the costuming force behind ear- lier movies such as "School Daze," "Love & Basketball," "Lee Daniels' The Butler," "Selma," "Dolemite Is My Name" and the upcoming "Coming 2 America," star- ring Eddie Murphy and James Earl Jones.
The ceremony will be live-streamed on the Hollywood Chamber of Commerce's social media platforms, including www.walkoffame.com, www.instagram.com/hwdwalkoffame/ and https://www.youtube.com/user/Hwd-WalkofFame.
People also can celebrate Ms. Carter and see her costume designs at the SCAD FASH Museum of Fashion + Film in Atlanta. The exhibit, "Ruth E Carter: Afrofuturism in Costume Design," is on view through Sept. 12, and features more than 60 costumes from Ms. Carter's career – from "Detroit Red" to Wakanda.