VLBC retains strength with special election victories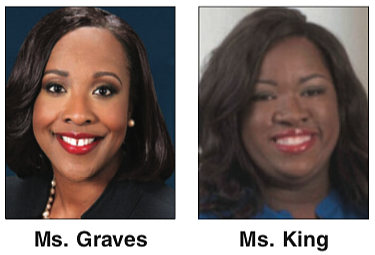 The Virginia Legislative Black Caucus gained two new members Tuesday night as the result of special elections to fill vacant seats in the House of Delegates.
The new state lawmakers and caucus members are education advocate Candi King of Prince William County and Norfolk City Council member and real estate broker Angelia Williams Graves, both Democrats.
Ms. King and Ms. Graves defeated Republican opponents in Tuesday's special elections to fill the two vacant seats ahead of the new General Assembly session's opening on Wednesday, Jan. 13, according to the state Board of Elections.
Ms. King won the race in the 2nd District to succeed attorney Jennifer Carroll Foy, who resigned to focus on her campaign for governor.
Ms. Graves won the 90th District contest to succeed attorney Joseph Lindsey, who stepped down to accept an appointment as a Norfolk General District Court judge.
Ms. Foy and Judge Lindsey were both members of the VLBC. The victories of Ms. King and Ms. Graves enable the caucus to maintain its political strength of 19 House members and four state senators.
With their win, Democrats also will continue to hold their 55-seat majority in the 100-member House of Delegates.