Biden nominates Virginia official, former VSU dean, to key USDA post
1/28/2021, 6 p.m.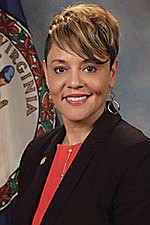 Dr. Jewel H. Bronaugh is heading to Washington to help run the U.S. Department of Agriculture after nearly three years of leading Virginia's agricultural agency.
President Joe Biden has nominated Dr. Bronaugh to serve as deputy secretary of the sprawling, 100,000-employee federal department. She will oversee the day-to-day operations of the USDA's 29 agencies and 4,500 operating centers, according to information from President Biden's office.
Dr. Bronaugh will be the first African-American in that role.
Her nomination drew praise from Gov. Ralph S. Northam.
As commissioner of the Virginia Department of Agriculture and Consumer Services, "Dr. Bronaugh has been a true leader in promoting the agency's core mission while taking on new challenges, including our COVID-19 pandemic response and farmer mental health," Gov. Northam stated.
She also focused on "economic development to improve food access in underserved communities and on engaging youths in the field," he continued.
Virginia State University also is thrilled that Dr. Bronaugh, a former dean of VSU's School of Agriculture, is moving up.
VSU President Makola M. Abdullah, who chairs the national organization of Black land grant schools, stated that "Dr. Bronaugh brings an unparalleled skill set and an abundance of knowledge to this critical (federal) position. She knows agriculture and the importance of our mission. We look forward to supporting her and working with her to meet the challenges and opportunities of the 21st century."