Vaccine supply, distribution problems frustrate area residents
George Copeland Jr. | 1/28/2021, 6 p.m.
Virginia's teachers, grocery store workers and the elderly are facing delays in getting inoculated against COVID-19. A sharp reduction in the supply of vaccine has left local health departments, including Richmond's and Henrico's, without enough doses to meet demand.
The situation has left many local officials and area residents frustrated as they have trouble trying to receive a vaccine.
"Virginia's campaign to vaccinate the masses is totally defective," the Chesterfield County Board of Supervisors wrote in a letter sent Tuesday to Gov. Ralph S. Northam and other state officials.
"We have run out of patience and tolerance," the letter continued. "Our citizens deserve better. They also deserve accountability as to what personnel or systems are responsible for the inordinate challenges that arise almost daily."
The board said that a recent order by the county for 8,000 doses of the vaccine resulted in only 1,000 being delivered. "And now we're being told to only expect 1,500 doses per week over the next four weeks."
Teachers, police officers, firefighters, day care workers and people working with the homeless and in correctional facilities are the latest groups deemed eligible to receive the vaccine under the state's plan prioritizing who should get the vaccine and when.
But the Chesterfield Board of Supervisors said the county has received only a fraction of what's needed to inoculate those groups. Parents and teachers have expressed anger, with many signing a petition calling for the Feb. 1 reopening of county schools for in-person instruction to be delayed until teachers can be vaccinated.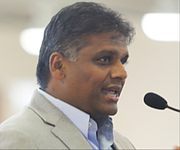 In a news briefing last Friday, Dr. Danny T.K. Avula, manager of the state's COVID- 19 vaccination rollout, talked about the need to manage expectations because of supply problems, as well as lag times in reporting data to the state. He said he and other state health officials are working to address the problems, including helping speed the vaccination process for doses delivered to CVS and Walgreens stores in Virginia under a distribution agreement with the federal government.
"For now, most recipients should know that they're going to — pretty reliably — get what they're getting for the next four weeks or so," Dr. Avula said. "We need to manage and temper expectations because, with just several hundred or in some cases a couple thousand doses coming to each community, there are not going to be that many slots for people to get vaccinated."
Richmond and Henrico County should receive about 6,400 doses of the vaccine for the foreseeable future, said Amy Popovich, nurse manager and COVID-19 vaccine lead for the Richmond and Henrico health districts.
She said the plan is now to use 50 percent of the weekly allocation for people age 65 and older, 40 percent for police, fire, and hazmat employees, corrections, child care and homeless shelter workers, teachers and staff in public and private K-12 schools, and 10 percent for con- gregate populations in jails, shelters and correctional facilities.
"We understand the weight and responsibility of stewarding this vaccine well," Ms. Popovich said. "We want to do our best to stay transparent and do the best we can by our communities. It's not a race against each other; this is a race against COVID."
Essential workers in manufacturing, grocery stores, public transit or public and private mail services who are part of the 1B priority group now will have a longer waiting period for immunization.
Officials said currently, about 20,000 people daily are being vaccinated in Virginia.
The Richmond and Henrico health districts also are preparing a new system for eligible people to use to sign up for a vaccine. The health districts are prioritizing seniors by age who have expressed an interest in getting the vaccine. Someone from the health district office will contact people and schedule an appointment.
People who live or work in Richmond or Henrico County are asked to fill out a COVID-19 vaccine interest form at vax.rchd.com, or call (804) 205-3501. Those without access to a computer or who cannot go online also can call (804) 205-3501 to sign up for a vaccine.
Residents of Chesterfield, Hanover, Goochland, New Kent and Charles City counties are asked to complete an eligibility tool at https://vdh.jebbit.com/amkwk6m1?L=Owned+Web&JC=Vaccine or to call the state COVID-19 hotline at (877) 275-8343.