RPS names four new principals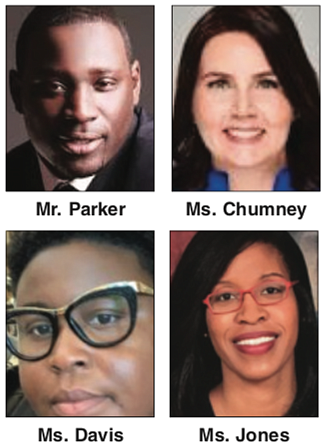 Richmond's George Wythe High School and three elementary schools will have new principals in the fall.
Richmond Public Schools Superintendent Jason Kamras announced that Riddick T. Parker Jr. will serve as the new principal of George Wythe High School. He will replace Joseph Pisani, who became principal at the South Side school in 2019.
The three new interim elementary school principals are Donalda Chumney at J.B. Fisher Elementary, Ebony Davis at Blackwell Elementary and Rickeita Jones at Woodville Elementary.
They are replacing principals Cleveland Walton at Fisher, Teresa Anderson at Blackwell and Shannon Washington at Woodville.
All of the former principals are no longer with the district.
The new elementary principals are interim appointments because they have not gone through the community panel of the selection process, RPS officials said. All have experience as principals or assistant principal with RPS or in other districts.
Mr. Parker was an assistant principal at Armstrong High School, where he played an integral role in increasing the school's graduation and attendance rates. He also previously worked for Baltimore City Public Schools, where he guided the development of innovative literacy and graduation pathway programs.
He earned a bachelor's in history and communications from the University of North Carolina before joining the NFL's San Diego Chargers in 1995 and playing with the Seattle Seahawks from 1996 to 2000. His pro football career ended with the San Francisco 49ers in 2004.
Mr. Parker also earned a master's in public administration and a graduate certificate in curriculum, instruction and assessment from Walden University; and a graduate certificate in school administration and supervision from Johns Hopkins University.
A Richmond native, Ms. Chumney has served as chief academic officer in Connecticut, a superintendent of a school district in New York City and as the principal of a college-preparatory middle school in the Bronx.
She began her teaching career in 2004 as a special education teacher of students diagnosed with autism. She is a graduate of American University's School of Public Affairs and earned a master's in urban education from Temple University, and a master's in special education and childhood education from Mercy College.
Ms. Davis has served as assistant principal at Highland Springs High School in Henrico, playing an integral role in improving the school's on-time graduation rate. She was responsible for leading a team that supported students in making academic gains in science and Career Technical Education.
She previously has served as a science teacher, dean of students and assistant principal at various schools in Central Virginia. She earned a bachelor's in chemistry from Norfolk State University, a master's in education from Strayer University and a master's in administration and supervision from NSU.
Ms. Jones has served as assistant principal at Westover Hills Elementary School. She began her career as a science teacher with RPS, rose to department chair for science in Henrico County Public Schools and was principal of Meherrin Elementary School in Southampton County.
Ms. Jones earned a bachelor's in chemistry from Virginia Union University and a master's in educational leadership from Virginia State University.