JaVale McGee may follow mother, Pamela McGee, in winning Olympic gold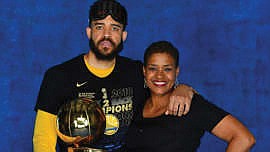 Pamela McGee helped the United States win an Olympic gold medal for basketball. Now her son, JaVale McGee, is in position to earn one himself.
If this happens, it would be the first time a gold-medal winning son had a gold-medal winning mother in the same sport.
Pamela struck gold at the 1984 Summer Olympic in Los Angeles. The U.S. women's team went 6-0 and defeated South Korea 85-55 in the championship game.
JaVale is a late addition to the current U.S. men's squad that will seek a fourth straight gold medal at the Tokyo Olympics. The 7-foot, 270-pound forward was added to the team after Kevin Love and Bradley Beal were injured and dropped out.
The mother-son combination has already made another form of hoops history. Pamela is the first woman to play in the WNBA to have a son to play in the NBA.
Height runs in the family. Pamela is 6-foot-3 and JaVale's father, George Montgomery, is 6-foot-10. Montgom- ery starred at the University of Illinois and was a second round draft pick by the NBA Portland Trail Blazers in 1985.
Pamela played college ball at the University of Southern California with her twin sister, Paula. Together, they helped the Trojans win NCAA titles in 1983 and 1984.
Pamela played in the WNBA with the Sacramento and Los Angeles Sparks.
JaVale, who grew up in Flint, Mich., played two seasons at the University of Nevada before becoming the Washington Wizards' first round draft pick in 2008.
PlayingforClevelandandDenverthispastseason,JaVale averaged 5.5 points and 5.3 rebounds. His career averages, over 747 NBA games, are 7.8 points and 5.2 rebounds.