Who is Naftali Bennett, Israel's new prime minister?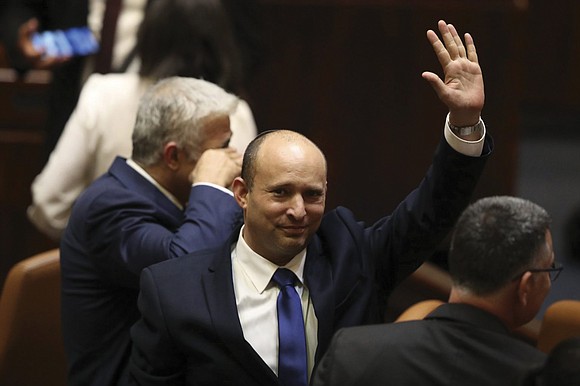 JERUSALEM - Naftali Bennett, who was sworn in June 13 as Israel's new prime minister, embodies many of the contradictions that define the 73-year-old nation.
He's a religious Jew who made millions in the mostly secular hi-tech sector; a champion of the settlement movement who lives in a Tel Aviv suburb; and a former ally of Benjamin Netanyahu who has partnered with centrist and left-wing parties to end Mr. Netanyahu's 12-year rule.
Mr. Bennett's ultranationalist Yamina party won just seven seats in the 120-member Knesset in March elections — the fourth such vote in two years. But by refusing to commit to Mr. Netanyahu or his opponents, Mr. Bennett positioned himself as kingmaker. Even after one member of his religious nationalist party abandoned him to protest the new coalition deal, he won with the crown.
(Here's a look at Israel's new leader, just days before President Biden hosts Israel's new president, Reuven Rivlin, at the White House on June 28. The role of president is largely ceremonial, with the greater authority resting with the prime minister, Mr. Bennett. President Rivlin's visit to Washington comes shortly before he is due to end his seven-year term in July.)
Mr. Bennett has long positioned himself to the right of Mr. Netanyahu. But he will be severely constrained by his unwieldy coalition, which has only a narrow majority in parliament and includes parties from the right, left and center.
He is opposed to Palestinian independence and strongly supports Jewish settlements in the occupied West Bank and east Jerusalem, which the Palestinians and much of the international community see as a major obstacle to peace.
Mr. Bennett fiercely criticized Mr. Netanyahu after the former prime minister agreed to slow settlement construction under pressure from then-President Obama, who tried and failed to revive the peace process early in his first term.
Mr. Bennett briefly served as head of the West Bank settler's council, Yesha, before entering the Knesset in 2013. He later served as Cabinet minister of diaspora affairs, education and defense in various Netanyahu-led governments.
"He's a right wing leader, a security hardliner, but at the same time very pragmatic," said Yohanan Plesner, head of the Israel Democracy Institute, who has known Mr. Bennett for decades and served with him in the military.
He expects Mr. Bennett to engage with other factions to find a "common denominator" as he seeks support and legitimacy as a national leader.