High cost of defense
Everett L. Bolling Jr. tries to piece his life back together after winning in court but losing everything in a murder case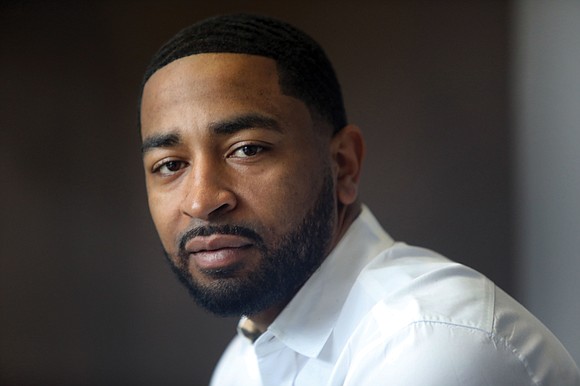 Eight months ago, Everett L. Bolling Jr., 37, seemed to have it all.
He was running a successful used car dealership near George Wythe High School on South Side.
He was married, owned a home in Chesterfield County and believed he was living the dream.
But his world came crashing down when he suddenly found himself in handcuffs and accused of first-degree murder in Richmond.
The father of five had been having an affair.
When his pregnant 31-year-old girlfriend was found shot to death April 9 in her car in the city's East End, police and the Richmond Commonwealth's Attorney Office targeted him as the only person with the motive and opportunity to commit this crime.
Two months after her running car and body were found, Mr. Bolling was behind bars at the Richmond City Justice Center.
He was charged with the pre-meditated fatal shooting of Francesca Harris-Scarborough and her unborn child on Blakey Street in the city's East End, more than three miles from her South Side residence. DNA testing proved she was carrying his child.
On March 12, though, after a weeklong court battle, a Richmond jury found Mr. Bolling not guilty and he walked out of court a free man.
According to his defense lawyers, Shannon Dillon and Alex Taylor, prosecutors never offered the jury proof that Mr. Bolling owned or had access to the .45-caliber weapon that was used, but never found by police.
A doorbell video showed a male figure who was the apparent killer, but it was too grainy to provide any identification. A small amount of DNA left on the passenger-side door handle of her car was found to exclude him.
Prosecutors also presented evidence tracking a cell phone, but never linked possession of the phone to Mr. Bolling, his lawyers said.
Though Mr. Bolling is celebrating his victory, the church-going Richmond native, like everyone else who goes through the criminal court grinder, is having to deal with the upheaval and loss that the arrest caused.
Winning in court came with a huge price tag, a significant punishment in itself that he must deal with. Police and prosecutors cannot be sued for bringing a case, even if they get it wrong.
That price includes the loss of his home, his business and his savings, along with family togetherness.
"I'm having to start over," he said about dealing with fallout that is just as severe as if he had been convicted.
The only saving grace is that he was found not guilty of the crime and wasn't locked up for years.
Even before trial, Mr. Bolling said he paid a price. An arrest for murder ensured that his face and the charge were broadcast on local news reports and printed in the daily newspaper. The result: "My reputation and character were called into question" by those who knew him, he said, despite his assertion that he had no part in the killing.
And the costs to him from the arrest just kept mounting.
According to Tracy Paner, director of the Richmond Public Defender's Office, people who spend as little as three days in jail can lose their jobs, their possessions and their ability to handle the world.
Mr. Bolling is a prime example of what happens when detention lasts longer.
He spent eight months in the Richmond City Justice Center awaiting trial, which cut off his income. Though his wife worked, she could not afford the mortgage on their home, which then went into foreclosure. She was forced to find a more affordable place for her and their children.
"It's been a great strain on the family," Mr. Bolling said. "They had to get a new place."
His ties to his wife remain strained, though she supported him in court. Since his acquittal, he has been living with a relative as he begins to rebuild.
While incarcerated, his company defaulted on the leased car lot on Midlothian Turnpike which he had operated for nine years. Mr. Bolling, a slender, bearded man with an infectious laugh and easygoing manner, appeared to check all the boxes for pretrial release, a process that the Richmond Commonwealth's Attorney's Office has long supported to reduce disruption to people's lives before their case goes to court.
A family man, he could demonstrate strong ties to the community along with his self-employment. He also was active in a local church and could point to community activities, including being regularly called on by officials to bring positive messages to inmates at the city's Juvenile Detention Center as well as the Justice Center.
And though he had served time in 2002 on a drug possession conviction, he already had his civil and voting rights restored and had not been charged or convicted of another criminal offense since, a claim supported by online court databases that do not list any misdemeanor or felony charges under his name between 2002 and the 2020 murder charge.
However, a Richmond judge rejected a bail request based on arguments from Katherine Groover, the assistant commonwealth's attorney who prosecuted the case.
Armed with certainty that Mr. Bolling was rightly arrested, Ms. Groover argued that Mr. Bolling should remain locked up because of the seriousness of the crime. She also argued that Mr. Bolling was a flight risk as he had a history of out-of-state business travel and church-related mission trips.
In jail, Mr. Bolling said he passed the time by reading and offering a class on starting and operating a business for inmates on his tier.
Then there was the cost of legal representation from his two attorneys, who teamed up to handle what the Richmond Commonwealth's Attorney's Office described as a complex circumstantial case.
Mr. Bolling said he is grateful for the experience and knowledge his lawyers brought to his case. He praises their ability to counter key commonwealth witnesses and for showing the jury through their arguments and cross-examination that the commonwealth had failed to prove its case.
But private lawyers do not come cheap. The Richmond Public Defender's Office would have taken his case without charge, but Mr. Bolling said he believed he needed the kind of veteran lawyers who need to be paid.
Mr. Bolling said the lawyers' bill tops $60,000.
"I had to use up my savings," he said. Paying attorneys "was definitely not how I planned to use that money," he said.
He also had to sell the remaining inventory on the car lot to raise the lion's share of the money. Still, he has a debt to them that he needs to pay off.
Now that he is free, his goal is to get back into the used car business as quickly as possible.
"It's going to take time," Mr. Bolling said. "I'm doing everything I can to put this behind me."