Hampton University basketball to get key players from Richmond area

Hampton University basketball will have a distinct Richmond area look in the upcoming season.
"The 804 has been good to us this recruiting cycle," said Pirates Coach Buck Joyner.
HU's incoming talent also features state championship résumés.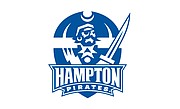 Rising freshman Will Henderson starred on Life Christian Academy's Virginia Independent Schools Division III state championship team in 2020.
LCA is a private school in Chester.
This past season, the 6-foot-10 Henderson played at Scotland Campus Sports in Pennsylvania, averaging 15 points, 10 rebounds and two blocked shots per game
"Will can play inside and out and we'll mix it up," Coach Joyner said. "He should present matchup problems for our opponents and pay dividends for us as soon as possible."
Henderson played a few exhibition games this past winter for Coach Ty White's Blue Magic, a spinoff of the John Marshall High basketball team.
"Will's a long, versatile wing. His best basketball is ahead of him," Coach White said.
Pinky Wiley, a 5-foot-11 point guard, and 6-foot-3 Rio Haskett will arrive at HU as transfers. Wiley comes from Delaware State while Haskett is moving to Hampton University from Harvard University.
Wiley averaged 10.2 points, 3.4 assists and 3.8 rebounds this past season for Delaware State University, earning third-team All-MEAC honors.
Haskett hasn't played since the 2019-20 season. Harvard University, along with the rest of the Ivy League, opted out this past season because of the pandemic.
Both Wiley and Haskett were key factors in L.C. Bird High School's 2017 State 5A championship. They also were a major part of the Chesterfield County school's 2016 state runner-up squad.
Also signing to play for HU are 6-foot-5 DeAngelo Epps, a transfer from the College of Charleston, and 6-foot-10 Luc Therrien from Bull City Prep Academy in North Carolina.
A Canadian, Therrien is originally from Vancouver, British Columbia.
Among the returning Pirates is Elijah Seward, a 6-foot guard who was part of John Marshall High School's 2020 State 3A championship team. Seward played sparingly as a fresh- man but is a fine outside shooter and all-round athlete.
All the news is not so good at Hampton.
Davion Warren, who averaged 21.3 points this past season, is transferring to Texas Tech, and Chris Shelton, among the nation's top 3-point shooters, is moving on to Youngstown State University in Ohio.
An All-Big South selection, Warren will be playing what amounts to a second senior season at the Big 12 school. The NCAA is giving all athletes a "free year" because of the pandemic.
Shelton, a guard from Louisa County, averaged 10 points while hitting 49 percent of his shots from behind the arc as a sophomore.
HU was 11-14 overall last season and 9-9 in the Big South Conference. The Pirates advanced to the second round of the Big South Tournament before falling at Radford University.