Poor People's Campaign, lawmakers unveil sweeping resolution to tackle poverty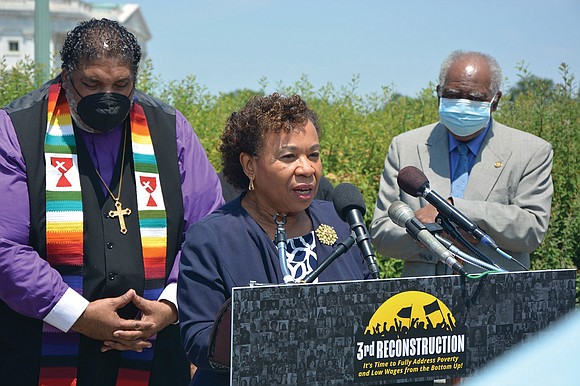 WASHINGTON - Lawmakers and leaders of the faith-based Poor People's Campaign unveiled a sweeping new resolution on May 20 designed to eradicate poverty in the United States, with activists touting it as a broad-based legislative framework that hopes to do for poverty what the Green New Deal proposes to do for environmental issues.
Speaking to media at the U.S. Capitol, lawmakers said the resolution, titled "Third Reconstruction: Fully Addressing Poverty and Low Wages From the Bottom Up," was designed to address a wide range of issues, from wages to voting rights to climate change.
Rep. Barbara Lee of California said the omnibus resolution, which will be formally introduced this week, was the result of a years-long process that has culminated in what she called a "profound and moral document, but also a practical, progressive document."
"We're calling on Congress and the Biden administration to develop a legislative framework to realize a third reconstruction to fully address poverty and low wages from the bottom up," said Rep. Lee, who chairs the Majority Leader's Task Force on Poverty and Opportunity.
She was joined by co-sponsor Rep. Pramila Jayapal of Washington state.
"Let us remind ourselves that we are all better off when we are all better off," said Rep. Jayapal, a chair of the Congressional Progressive Caucus and a member of the Congressional Free Thought Caucus.
She said as liberal lawmakers work to pass legislation in the future, "everything we do has to be centered on how we lift up the poor and eradicate poverty."
Poor People's Campaign officials said the resolution's proposals mirror long-standing goals of the activist group. They include raising the federal minimum wage, creating a federal jobs program, scaling back military spending, instituting a wealth tax, enacting immigration reform, passing legislation that would expand and protect voting rights and "measuring poverty accurately."
The resolution is evidence of the growing political influence wielded by the Poor People's Campaign, which has spent several years working to frame poverty as a religious and moral issue.
The reference to a "third reconstruction" is an homage to an argument often invoked by the Rev. William Barber II, co-chair of the Poor People's Campaign, that after laws passed during two reconstructions helped uplift Black Americans and others — the first after the Civil War and another catalyzed by the Civil Rights Movement of the mid-20th century — the United States is in need of a third reconstruction to bring about racial equality and economic justice.
Rev. Barber, flanked by Poor People's Campaign co-chair the Rev. Liz Theoharis, reiterated the idea during last week's news conference.
Among the lawmakers in attendance were Rep. Cori Bush of Missouri, Rep. Sara Jacobs of California, Rep. Gwen Moore of Wisconsin, Rep. Jamie Raskin of Maryland, Reps. Danny Davis and Jan Schakowsky of Illinois and Rep. Rashida Tlaib of Michigan.
Some, such as Rep. Jacobs, invoked their faith while expressing support for the resolution, arguing that the cause of combating poverty is difficult but just.
"In my faith tradition, we have a saying: Do not be daunted by the enormity of the world's grief," said Rep.
Jacobs, who is Jewish. "Love justly now, walk humbly now. You are not obligated to finish the task, but neither are you free to abandon it."
Rep. Bush, who is a pastor, argued that "poverty is a policy choice" before declaring: "With this resolution, we've come together as lawmakers and advocates, as people of faith and as people of conscience, because we choose affirming life over inflicting violence."